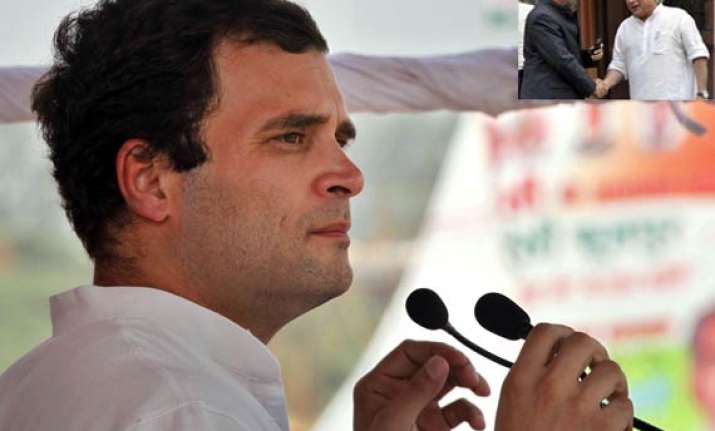 New Delhi, Nov 27: The Congress leadership appears to be divided over the issue of FDI push in retail sector aas a section of the leadership feels that the  decision may affect the party's prospects in the forthcoming UP assembly elections, where the trader community has a sizable section of the vote and had been a supporter of Congress and BJP.

Mumbai Mirror reported that Rural Development Minister Jairam Ramesh raised the question, whether the decision could not have waited a little longer, after the elections in UP were over.

The issue of FDI  has split the Congress down the middle, the report says. Partymen  feel that the government has deliberately betrayed Rahul  Gandhi in his foray into the UP assembly  polls and has  given a  strong  stick to  his opponents to beat him with. As Bahujan Samaj Party supremo Mayawati did on Saturday.

A Congress functionary pointed out that it is not for nothing  that only  those exclusively close to Rahul, like  Ramesh or someone like defence minister A K Antony who enjoys the confidence of Sonia who grasped the point and opposed FDI in the retail sector at the Union cabinet meeting.

"All other  Union ministers who do not want Rahul to succeed in UP or even in politics  have pushed for FDI," he said.

A cabinet minster, however, dismissed talk that the government should have waited till the UP polls. "It is long overdue. It is in the election manifesto," the minister said.

Official sources, however, said it is not possible for the government to take a decision without consulting Congress president Sonia Gandhi. "She must have  been kept in the loop. At the same time, so far, the Gandhis have not spoken their mind yet," a source said.

Sources  said  that Ramesh almost single-handedly  fought the pro-FDI-in-retail lobby at the two-hour-long cabinet meeting.
He had to contend with very formidable opponents — Pranab Mukherjee, Sharad Pawar, P Chidambaram, Kamal Nath and  Kapil Sibal.

Pawar snubbed Ramesh's point on having the FDI decision put off till the polls. The NCP chief reportedly  said that while the Congress may not get anything in UP, it might at least gain something in Punjab, where the Akalis want FDI in retail. Pranab batted for  the FDI, saying he wanted to do something to shore up the falling sensex.

Kamal Nath  argued that entry of FDI could  teach our farmers "a thing or two" about  agriculture.

Members of Parliament from the party feel the government pushed  the FDI issue to deflect attention  from Chidambaram.
The Union home minister  was facing a boycott  from Bharatiya Janata Party which is asking him to step down in connection with the 2G scam.
Sources said that with a new row over FDI – all parties demanding an adjournment motion – the home minister could  escape the attention of the National Democratic Alliance members.