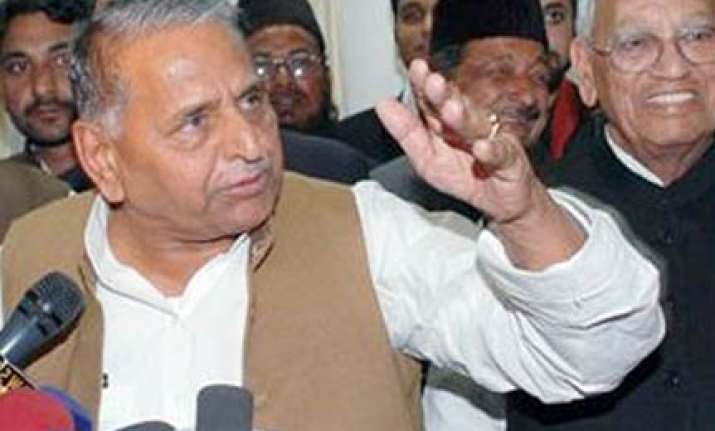 SP chief Mulayam Singh Yadav on Tuesday accused the Government of resorting to "dictatorship" over the issue of Women's Reservation Bill and said the move will prove "catastrophic" for it.  
Yadav said the meeting of Prime Minister Manmohan Singh with the opponents of the bill failed to yield any result.  
"No result came out" was his response when asked what has been the outcome of the meeting of Singh with him, RJD chief Lalu Prasad and JD-U chief Sharad Yadav, the key opponents of the women's bill in its present form.  
Asked what has been the result of his talks with Congress President Sonia Gandhi on the floor of the House, Yadav said, "Who is ready to listen. Nobody is willing to listen."  
He said if the government agrees to give reservation to Muslim women separately in the bill, his party will support it.  
"Whatever be the percentage of reservation. Our issue is simple. Give reservation to Muslim women separately. There is one Muslim MP in Lok Sabha from 12 states. If Muslim men could not enter Lok Sabha, what is the hope that Muslim women will be represented.  
"We have demanded that at least give reservation to Muslim women but the government is not listening," Yadav said.  
He said the bill is a "conspiracy" to finish off leaders of backward classes who have emerged tall. Yadav claimed that the government has become "haughty and dictator", saying, "Whoever becomes proud is bound to finished. They (the government) will be finished."
On the other hand, in the first signs of strains within the UPA, Trinamool Congress leader Mamata Banerjee claimed that her party was kept in the dark over the way the Women's Reservation Bill was being passed in Rajya Sabha.
Even as discussion and voting on the issue was on in the Upper House, an angry Banerjee said Prime Minister Manmohan Singh had given her party the understanding that there will be an all-party meeting on the issue.
But with the bill being suddenly taken up for discussion and voting, she said she could not mobilise her party MPs in the Rajya Sabha. TMC has 2 members in the Upper House.
She said it was made clear to her yesterday that the measure will not be adopted the way it was being done. PTI