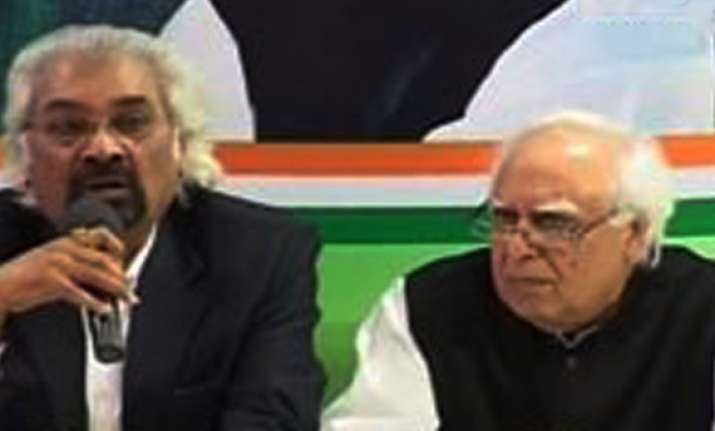 Lucknow Jan 31: Playing the quota card in poll-bound Uttar Pradesh, Congress today promised reservation for socially and economically backward minorities and very backward dalits in proportion to their population. 

Releasing the party manifesto in the state where Rahul Gandhi is the star campaigner, the Congress also vowed to ensure that all parties to the Ayodhya dispute stick to the court verdict.

The party promised to work for setting up the second States Reorganisation Commission in the wake of demands for splitting states like UP.

Reiterating its promise of creating more employment opportunities if voted to power, the manifesto promised launching a UP skills and employment mission to provide job related skills and training to 20 lakh youths and placement in jobs through this mission in the next five years. 

The manifesto was released here jointly by HRD minister Kapil Sibal, Law minister and chairman of the manifesto committee Salman Khursheed and UPCC president Rita Bahuguna Joshi. It was simultaneously released in nine other cities in the state.

Sam Pitroda, who is Prime Minister Manmohan Singh's technology and innovation adviser, was also present at the manifesto launch reflecting Rahul's atempts to lay stress on technology in development of UP.

For the minorities, the manifesto promised timely implementation of the UPA government's policy of 4.5 per cent quota in central government jobs, PSUs and educational institutions besides aim towards a sub quota for them in UP as part of the OBC quota in the state government jobs and educational institutions commensurate to their population. 

Vowing to pursue an equitable solution to the Babri Masjid dispute, the manifesto said "All parties must abide by the verdict of the courts.

If negotiations are to be held they must be between the parties to the dispute and must have a legal sanction."

The Congress stand ran counter to BJP's promise of building a Ram temple in Ayodhya.