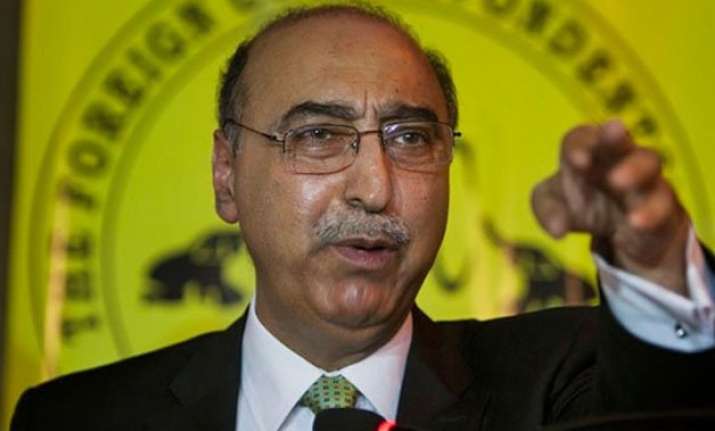 New Delhi: Amid chill in bilateral ties, Pakistan on Wednesday said setting preconditions for talks and "cherry picking" never worked before and will not succeed in future as remaining dis-engaged would not improve relations.
Pakistan High Commissioner Abdul Basit said Pakistan expected a positive response from India on the four-point agenda put forth by Prime Minister Nawaz Sharif to normalise ties but India's response to it was not encouraging.
"Setting pre-conditions or cherry picking never worked before nor (it is) going to work in future," Basit said.
He was speaking at the launch of book "Neither A Hawk Nor A Dove" written by former Pakistani Foreign Minister Khurshid Mahmud Kasuri. The event was attended by former Prime Minister Manmohan Singh and BJP patriarch L K Advani besides a galaxy of other political leaders, writers, intellectuls, diplomats and eminent citizens.
In his 850-page book, Kasuri detailed various significant developments in India-Pakistan relations during his tenure as Pakistan Foreign Minister between 2002 and 2007 including the back-channel peace talks that he claimed had almost culminated into a permanent settlement of the vexed Jammu and Kashmir issue.
Basit said India-Pakistan relations are "again going through a familier pattern" but held out hope that "together we can make a diffence and resume a process that is to our mutual satisfaction."
"I think the environment will improve if the two sides are engaed (in talks). To expect that the environment will get better with dis-engagement, at least I do not subscribe to that," the Pakistan envoy said.
The envoy said India should have reflected on Sharif's proposal, observing that diplomacy conducted in "post haste" has its own hazards.
Ties have been strained between the two neighbours over border firing and a series of ceasefire violations. Talks between India-Pakistan National Security Advisors were cancelled recently because of a dispute over the agenda. India wanted to discuss terror attacks and Pakistan insisted on raising Kashmir.