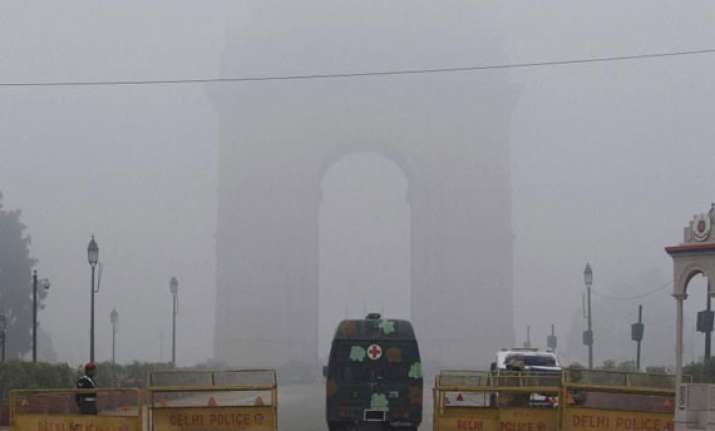 New Delhi, Jan 2 :Bone chilling cold and icy winds left Delhiites shivering today as the national capital experienced the coldest day in the past 44 years with day temperature plummeting to a record 9.8 degrees Celsius.
The sharp dip in mercury level made life tough for people who found it very difficult even in the afternoon as icy winds blew over the city.
The minimum was recorded at 4.8 degrees, two notches below normal but 0.8 degrees higher than yesterday's 4 degrees Celsius, which was the season's lowest minimum recorded.
Today's maximum is a 11 degrees departure from normal levels and this is the lowest maximum temperature recorded since 1969, the MeT office said.
Denizens pulled out more woollens from their shelves as both maximum and minimum temperatures dipped this winter.
The MeT department says the spell of intense cold would continue tomorrow as a similar weather condition would prevail.
Flight operations were also disrupted as there was a drop in runway visibility to less than 25 m.
Dense fog partially disrupted the schedule of over 30 flights, including diversion of an international flight to Mumbai.
Yesterday's minimum was three notches below normal, making it the coldest morning of the season.
The cold wave also pulled temperatures way below zero in Kashmir and Himachal and the fog hit air, train and road traffic in Uttar Pradesh, Punjab, Haryana and Delhi.
A Met Department official in mountainous Jammu and Kashmir said minimum temperature fell to minus 3.9 degrees in Srinagar, minus 7.7 degrees in Pahalgam and minus 9.2 degrees in Gulmarg.
But the coldest town was Leh at minus 16.2 degrees Celsius. Kargil recorded minus 14.8 degrees.
The conditions would only get worse Thursday before an improvement in night temperatures from Friday.
Himachal Pradesh, the other mountainous state, was sunny but the cold was biting.
Keylong in Lahaul and Spiti was the coldest place in the state with minimum temperature at minus 8.9 degrees Celsius, a Met official said.
Kalpa in Kinnaur district saw a low of minus 3.6 degrees and Manali minus three degrees. Dharamsala was 4.6 degrees.
The minimum temperature was 2.1 degrees Celsius in state capital Shimla, down from Tuesday's 4.8 degrees.
The weather would remain dry till Saturday, said the official.
Despite a sunny day, the plains of Uttar Pradesh too continued to reel under extreme cold wave conditions.
The Met department said inclement weather would continue for most part of the week, and there are good chances that fog may reappear.
Banda, Sonebhadra, Bhadohi, Rampur and Etawah were worst-hit by the cold wave with day temperatures slipping down to around 17 degrees Celsius and night temperatures hovering between four and five degrees.
In state capital Lucknow, the lowest temperature since Tuesday was 4.3 degrees while the maximum was 17 degrees.
The onset of north-westerly winds was likely to bring back the chill, a Met official said.
Rail, road and air traffic continued to be hit by fog and more than a dozen trains were running hours behind schedule.
The Shatabdi Express between Delhi and Lucknow was running late by more than four hours.
In Haryana, Narnaul recorded 2.4 degrees Celsius, making it the coldest place in the region.
The fog in Punjab and Haryana delayed road, rail and air traffic at most places.
Chandigarh recorded a high of 11.3 and low of 4.2 degrees Celsius while Bhiwani and Hisar in Haryana recorded lows of 3.6 and 4 degrees Celsius.
Punjab's Patiala town recorded a low of 5.5 degrees Celsius while Amritsar and Ludhiana were at 7.2 and seven degrees Celsius.