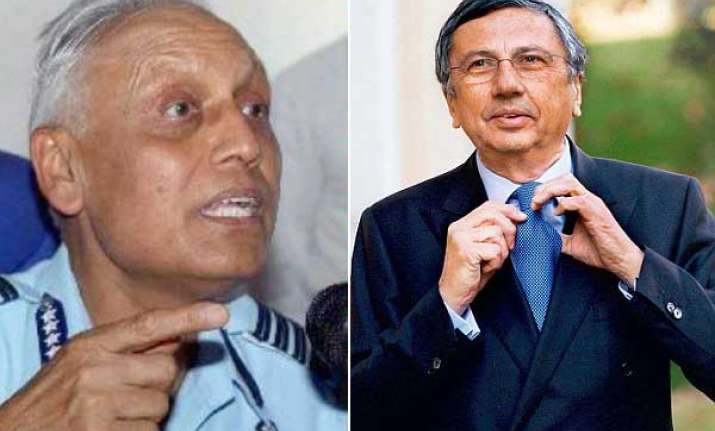 New Delhi, Feb 16: An alleged middleman in the VVIP helicopter deal has claimed that he knew the "family" of former Air Chief S P Tyagi and had met one of his cousins at a wedding in Switzerland, according to the investigations.
The wedding meeting took place soon after S P Tyagi's appointment as the Air Chief in December 2004, the probe report claims.
The investigation report prepared by the Italian prosecutors also claimed that one of the middleman was also able to arrange a meeting with S P Tyagi.
"My partner and Gerosa had a long and good terms with the Tyagi family. I knew the three Tyagi brothers... At the wedding of my partner's daughter I met Juli Tyagi. The wedding took place in Lugano (in Switzerland)," one of the alleged middleman 'ADR' has reportedly told the Italian prosecutors.
According to the documents, 'ADR' also recognised the photograph of Julie Tyagi during prosecution, claiming that he had, "long and good terms with the Tyagi family."
Julie has denied allegations about his involvement in the scam and said he was open to any inquiry.
The report has claimed the three Tyagi brothers, cousins of S P Tyagi, are alleged to have received kickbacks of around Rs 72 lakh from the middlemen.
ADR has also reportedly told the prosecutors that he learnt about the Indian tender to buy these choppers and S P Tyagi's appointment as the IAF chief from the three brothers.
"I learned from Gerosa that he in turn had learned from Tyagi brothers that Indian government was interested in the supply of helicopters to transport the most high personalities of the state. This happened in 2005. I had also said that a first cousin of Tyagis became Chief of Staff of the Indian Air Force," he reportedly told the prosecutors.
Gerosa's name has reportedly surfaced in the Rs 3600 crore deal to procure 12 VVIP choppers by the Indian government.
'ADR' also allegedly told the prosecutors that he had a meeting with former CEO of Finmeccanica Giuseppe Orsi where they discussed the helicopter tender.
"Thanks to Indian notables of my knowledge, I was able to organise a meeting between Zappa (believed to be another middleman) and the Chief of (Air) Staff, Air (Chief) Marshal Tyagi," he said.
The issue of bribery in the defence deal resurfaced after the arrest of Orsi and AgustaWestland CEO Bruno Spagnolini in Italy for paying kickbacks.
The investigation report suggests that the S P Tyagi had met the middlemen more than six to seven times and allegedly briefing them about the developments in the contract.
According to Italian prosecutors, kickbacks to the tune of Rs 360 crore were allegedly paid in the Rs 3,600 crore deal for supply of 12 helicopters by Italian firm AgustaWestland.