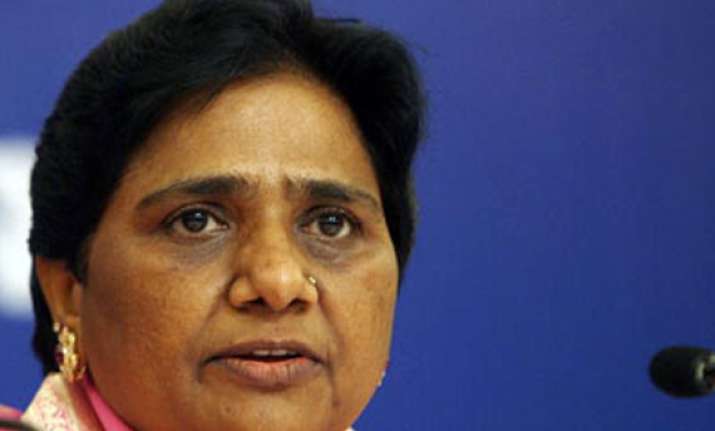 Lucknow, Dec 20: Uttar Pradesh Chief Minister Mayawati today alleged that the Central government wanted to keep the issue of division of the state into four parts pending and that the letter sent to the state by the centre yesterday in this regard was against constitutional norms. 

"Instead of taking action on the proposal, as passed by the state legislature last month, it appeared that the centre wanted to keep the issue pending," Mayawati told reporters here.

While rejecting reports that the central government has turned down the proposal for division of the state, Mayawati said that only certain clarifications have been sought but alleged that the letter was leaked to the media before it could even reach the state government. 

Taking exception to the letter which states that the proposal would be considered after getting a reply on these points, the chief minister said that it appears that the Central government gives no importance to the proposal passed by the state legislature.

"If the centre wanted any clarifications it should hold a dialogue with the legislature which had passed the proposal on November 21," she said adding that state government cannot give its comments on the view of the house. 

Stressing that a reply on the points raised by the letter would be sent, Mayawati said that her government hoped that centre would keep people's aspirations in mind and take steps for ensuring the development.

She hoped that action would be taken by the centre as per the constitutional norms and unnecessary objections would not be raised.

Mayawati cited Article 3 of the constitution to stress that the reorganisation of states was a central issue and sending a proposal by the state was not required for it. 

She said that the norms followed in the creation of Uttarakhand state should be followed. 

The chief minister said that as per the constitutional provisions, a proposal in this regard should be passed by the parliament with the consent of the president and then the view of the concerning legislature should be sought. 

A proposal in this regard from the assembly is not required but as the central government had not been taking any steps in this regard though the state government had been writing letters ever since 2007, it was got passed in order to create pressure, she said.