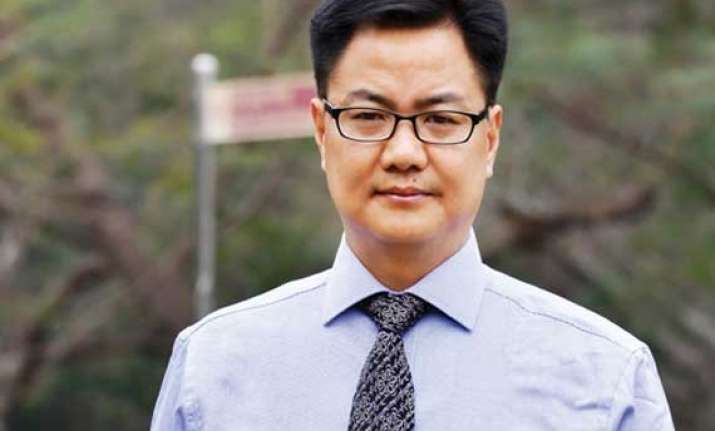 Itanagar: To match China's road infrastructure across the McMohan Line, India is planning to construct a road along the international boundary from Mago-Thingbu in Tawang to Vijaynagar in Changlang district of Arunachal Pradesh, Union Minister of State for Home Affairs Kiren Rijiju said today.
"The road has also been planned considering the large-scale migration of people from border areas and the need to push them back by creating all basic amenities to make them comfortable," Rijiju told reporters here.  He said the proposed 2,000-km long road which is still in the conceptual stage, would not only be beneficial from the security point of view but would also accelerate border area development, one of the priority areas of the NDA government at the Centre.
"The construction of the road will be a huge challenge considering the rough and hostile terrain mostly snow-fed through which it would pass and will be the biggest single infrastructure project in the history of India with an estimated cost of over Rs 40,000 crore," he said.  
Rijiju, who is looking after border area management in the Home Ministry, said that Union Minister of Road, Transport & Highways Nitin Gadkari had entrusted him with the responsibility to look after road projects in the northeastern states except Assam.
"I am proposing to undertake this road along with another in the foothill areas of the state from Bhairab Kund, the tri-junction of Bhutan, Assam and Arunachal to Ruksin in East Siang district which will serve as an industrial corridor for the people residing in the foothill areas of the state," he said.
When asked about the Centre's proposal for free rice to people living in border areas and mechanism to supply rice to those places with no road connectivity, Rijiju said that the Centre in due consultation with the state government would utilize the service of the central forces like ITBP and BSF for supply of rice to the people.
"Alternative arrangement like air sorties will be made available in all inaccessible border areas to supply free rice since this will be a contingency plan till road infrastructure is developed," he said.
When asked about the proposal to introduce Rajdhani train between Itanagar and New Delhi from November next, which had ran into rough weather following protest by students' unions and other mass-based organizations over mechanism to issue Inner Line Permit (ILP) to passengers, Rijiju said that the state government had been asked to work out the modalities.  "There will be no compromise on the interests of the indigenous tribal people of the state and local sentiments will be taken care of," he said.
Arunachal Chief Secretary Ramesh Negi, who was present, said that the state government had already worked out mechanism to issue online ILP as well as on arrival at the railway station to passengers from outside.