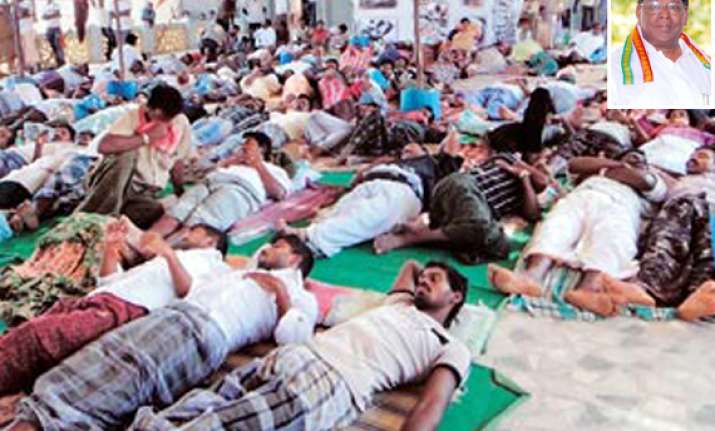 Chennai, Oct 15: The Centre today termed as"unfortunate" anti-Koodankulam nuclear power plant activists preventing scientists and employees from going to work at the unit and appealed to them to come to the negotiating table. 

"It is unfortunate—the kind of stopping people (from proceeding to work).. My request is let us negotiate and discuss with an open mind and we are ready to remove apprehensions," Minister of State in the Prime Minister's office, V Narayanasamy told reporters here.  Noting that Prime Minister Manmohan Singh has decided to set up an expert committee to talk to the agitating locals on the issue, he said the people's views will be taken into consideration.

Though the protestors had initially started their protest in a "Gandhian way," they have now changed the mode, he said in reference to the latest developments.  The agitators had stepped up their protest against the KNNP, staging a road block in front of the plant site on Thursday, preventing entry of workers and scientists into the complex. 

He rued that despite assurances from Centre and state (on safety and discussions) they had resumed their protest.  The Centre was waiting for "a signal" from Tamil Nadu government and would then constitute the expert committee, he said, adding, the completion of the project would augur well for the power scenario in the country and especially Tamil Nadu, which will get 925 MWe from it.

"More than 99 per cent work in the first reactor and 93 per cent in the second were over and power production is due to start soon," Narayanasamy said as he vouched for the plant's safety.
 
The Koodankulam Nuclear Power Project, an Indo-Russian joint venture in Tirunelveli district, has run into rough weather with the locals protesting against it citing safety concerns, in the wake of the Fukushima nuclear disaster.  While the state government has urged the Centre to allay fears of locals on safety concerns, the Prime Minister has said its stoppage would affect the state's industrialisation prospects.

Delegations of state government and the protesters had also called on Singh in Delhi recently to convey their respective stands.