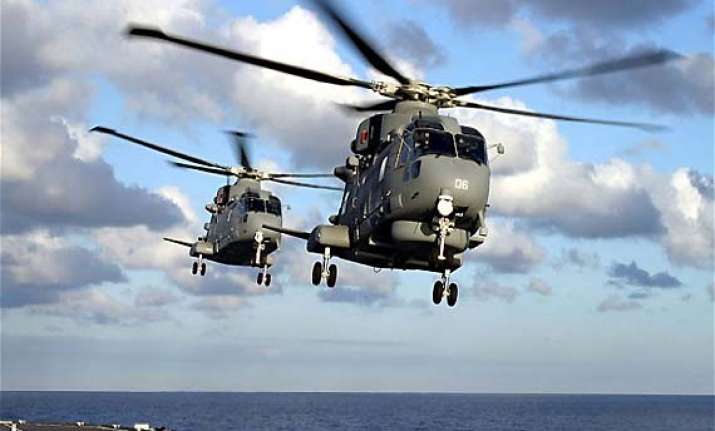 New Delhi, Feb 19: A Central Bureau of Investigation team has left for Italy to probe the allegations of kickbacks in the Rs. 3,760 crore deal for the 12 AgustaWestland101 choppers, a report said.
According to reports, the team would meet Italian prosecutors to ascertain the details of the case. 
Sources said a lawyer is likely to be engaged in Italy to help the team understand the Italian law, represent India's case with the local courts, and expedite the process of getting documents.
A CBI team will probe if firms had been floated to route kickbacks in the helicopter deal with AgustaWestland, a Britain-based subsidiary of Italian firm Finmeccanica.
Reportedly, the investigating agency has so far not registered a case as it wants to get more information about the kickbacks and establish authenticity of documents.
The sources said the CBI was handed over a letter from the defence ministry seeking a probe which also contained some press clippings.
Rejecting charges that it was not proactive in probing allegations of kickbacks in the chopper deal, the government on Sunday said it would act only according to the law and not to please the Opposition in this case.
External affairs minister Salman Khurshid also dismissed suggestions that the alleged scam was "Bofors-Part II" saying the Opposition should understand that most of the allegations in the Bofors case were rejected by the Supreme Court.
He also said India was in touch with authorities in Italy over the case and suggested that Italy was a better place to probe since the firm that produces choppers operates out of that country.
"Well, if someone is probing it you let them probe it. Should you have your own probe when someone else is probing which is probably better place to probe because that is where the production takes place and that is where the offices are."
"We obviously remained in touch with them and expected that they would keep us informed at an appropriate stage (and give information) that we will use it," he said in response to a question on why India did not probe the alleged scam.
Asked whether he suggests that India will not pro-actively probe the case, he said there was nothing called pro-active.
"There is such a thing as lawful. Whatever has to be done by law should be done and I don't think that we should do anything that is done to please the Opposition or because somebody puts pressure on us. What is lawfully required and what is lawfully justified is what will be done," he said.