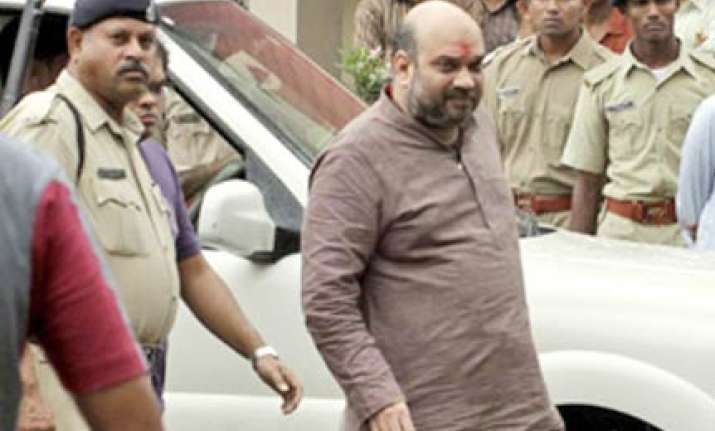 Ahmedabad: The Gujarat High Court on Thursday  issued notice to Amit Shah while hearing CBI's petition challenging a lower court order rejecting its plea for remand of the former Gujarat minister arrested in connection with the Sohrabuddin Sheikh fake encounter case.
In the petition, CBI has sought quashing of the order passed by the Additional Chief Judicial Magistrate yesterday rejecting its plea for Shah's remand. It has further requested for 10 days custody of Shah.  Hearing the case, Justice Akil Kureshi issued notice to Shah, currently lodged in Sabarmati Central Jail here, and the state government who are respondents in the case.
Further hearing in the case is scheduled for tomorrow.  Appearing for CBI, Senior Supreme Court counsel K T S Tulsi submitted that the lower court magistrate had committed an error in holding that merely because cognisance of offense was taken, power of police custody or remand was exhausted.  
CBI's plea demanding 10-day remand of Shah was rejected yesterday by the special CBI court saying the probe agency does not have substantial grounds to seek his remand.   
Additional Chief Judicial Magistrate A Y Dave said the agency was given three days time to question Shah inside jail, but they quizzed him for only for three hours. Hence, the CBI demand for Shah's remand cannot be entertained, the court said. Tulsi said the lower court magistrate had seriously erred by concluding that Shah was interrogated for merely three hours in jail by CBI.
The jail record in fact shows that the accused (Shah) was interrogated for around five hours each day between July 20-30, as per court orders, the CBI petition said.  Tulsi further said the magistrate has not gone through the case diary and the report given in sealed cover to him by the CBI.  
"The magistrate, it seems did not even endeavour to correlate the points mentioned in sealed cover with the relevant facts mentioned in the case diary," the CBI petition said, adding the order by the magistrate was passed without application of mind. The petition further said the magistrate had committed fundamental error in assuming that the remand was being sought for obtaining confession from Shah.
When Justice Kureshi asked to narrate the factual aspect on which CBI was seeking remand, Tulsi said it was to recover certain documents concealed by Shah.  Remand was also required to recover material like Shah's personal computer, laptop computer, phones and some letters which could provide vital evidence in the probe, the senior counsel added.  Chief investigation officer in the case Amitabh Thakur has also filed an affidavit in the High Court describing the need for remand of Shah. PTI