Follow us on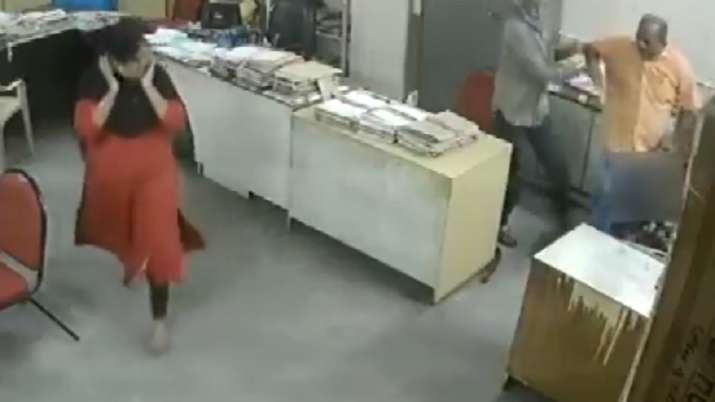 An upsetting video from Andhra Pradesh has surfaced showing an employee of a hotel in Nellore under the state Tourism Department brutally beating up a woman colleague inside the office. According to ANI, the incident took place on June 27 following a verbal spat after the woman employee asked her colleague to wear a face mask. A case under relevant sections has been registered against the man.
In the video, it can be seen that a man is brutally thrashing his colleague after being asked to wear the face mask. The video also shows another employee in the office tries to stop him. Meanwhile, another woman is seen in the video feeling shocked over how the man was ruthlessly thrashing his colleague.
The incident occurred in the tourism department's office in Nellore on Saturday but came to light on Tuesday after the victim lodged a police complaint.
Deputy Manager Bhaskar pulled the woman staffer by hair, dragged her and repeatedly attacked her with what looks like an iron rod even as other employees in the office tried to intervene.
The man was seen rushing towards the woman, pulling her down from the chair and dragging her by hair. He then picked up some object from the table and hit her. Another employee tried to control him but he pushed him to the ground. He then picked up what looks like an iron rod and repeatedly attacked the woman as other employees watched in horror.
Unable to see the assault, another woman present in the office was seen rushing out. A man who walked in finally managed to snatch the rod from Bhaskar's hands. Police registered a case and are on the lookout for the accused.
Police said that the official got angry and felt insulted after the woman colleague advised him to wear the face mask to contain the spread of coronavirus.
(With inputs from IANS)
ALSO READ | Father kills 17-year-old daughter over affair in UP
ALSO READ | UP: Man beaten to death by cricket bat over family dispute