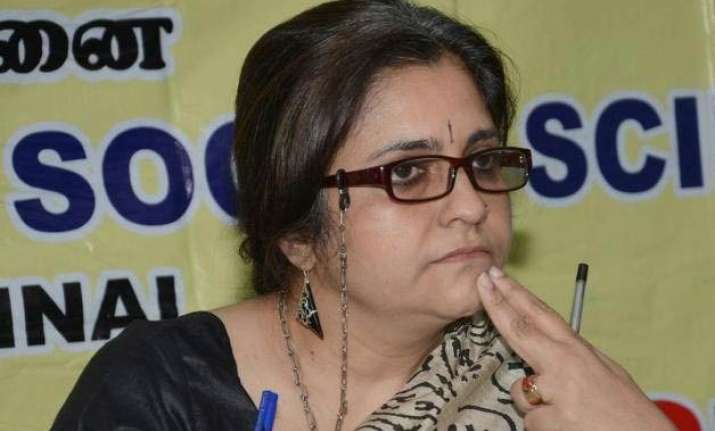 New Delhi: The Central Bureau of Investigation (CBI) on Tuesday registered a case against civil rights activist Teesta Setalvad for allegedly receiving funds from foreign entities without registration or prior permission from the government.
Other names mentioned in the FIR are Teesta's husband Javed Anand, businessman Gulam Mohammed Peshimam and Sabrang Communications and Publishing Pvt Ltd (SCPPL).
FIR comes 10 days after the home ministry asked it to probe irregularities and violation of the Foreign Contributions (Regulation) Act (FCRA) by Teesta and her NGOs.
The CBI is currently examining Sabrang`s documents and bank account details, with media reports speculating that the trio may soon be questioned by the agency.
A report in Times of India suggests that Teesta, Anand and Peshimam have been booked under provisions of FCRA after CBI examined the home ministry's complaint which points to prima facie "illegal diversion of funds". '
Sources said the guilty in such cases could face imprisonment of up to five years.
It is alleged that Sabrang Trust and Citizens for Justice and Peace (CJP), both run by Teesta, received foreign contribution and this was diverted to SCPPL.
Report said Sabrang Trust allegedly received around Rs 1 crore in violation of provisions of the FCRA, 1976 as well as those of FCRA, 2010.
CJP, which has been fighting cases for victims of 2002 Gujarat riots, had received a total foreign contribution of around Rs 1.18 crore from 2008-09 to 2013-14.
The agency is examining documents related to the company and bank account details besides the home ministry inspection reports of SCPPL's accounts and records for 2006-07 to 2014-15.
During the probe under FCRA, Home Ministry officials found that Teesta and her husband were running a magazine "Communalism Combat" as co-editors as well as printer and publisher of their company Sabrang Communication and Publishing Pvt Ltd (SCPPL) and allegedly received foreign contribution.
Teesta has had a running battle with Prime Minister Narendra Modi and Gujarat government since the 2002 riots.
Gujarat Police had earlier accused Teesta and her husband of diverting and misusing funds received for the state's riot victims, a charge which she described as 'victimization' by the Modi government.