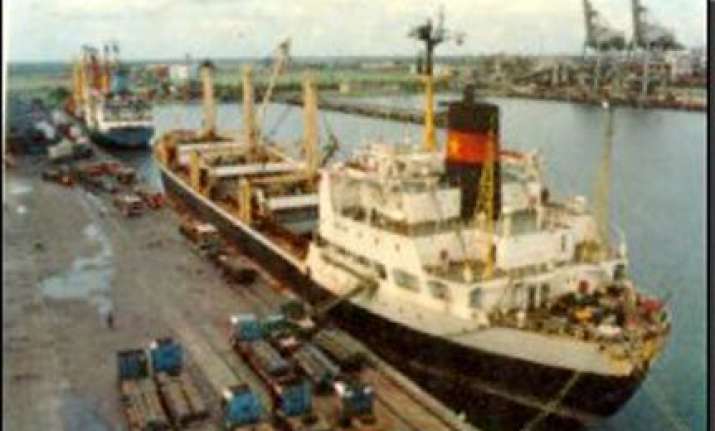 Kolkata :  The captain of the Karachi-bound ship, laden with military hardware, ammunition and explosives, was questioned on Saturday after the papers provided by him were not in order and officials said the vessel is being brought to the Kolkata Port for scrutiny.
"Papers and documents furnished by the captain of the ship, Aegean Glory Kingstown, to police and customs teams were inconsistent," Director General of Police(DGP) Bhupinder Singh told reporters here.
"Customs have now decided to completely rummage the ship. This could mean opening of all the containers and verifying the contents..for this purpose, they will be bringing the ship to the Kolkata Port," he said.
The Karachi-bound cargo vessel from Bangladesh with military hardware and explosives was yesterday detained by the police at Diamond Harbour in West Bengal's South 24 Parganas district. The police, Coast Guard and Customs have cordoned off the Liberian registered ship S G Zyat sailing from Chittagong in Bangladesh.
The Navy and Coast Guard personnel after boarding the 153-metre ship yesterday found a huge quantity of explosives, rocket launchers, anti-aircraft guns and smoke bombs in two large containers. "Details of the consignment were not given in the list furnished to us and further searches will be made in the arms-laden ship," Singh said.
The captain was deboarded and taken for questioning at Radisson Fort, police said.
DIG (CID) Anuj Sharma, South 24 Parganas SP L N Meena and customs officials visited the vessel anchored at Diamond Harbour on a hovercraft. No boat was allowed near it. Describing the incident as "alarming", they said "it's surprising why the Pakistani-bound vessel was passing through Indian waters."
 Inspector General of Police (Law and Order) S Karpurakayastha said "the ship was detained on an intelligence tipoff. PTI