Follow us on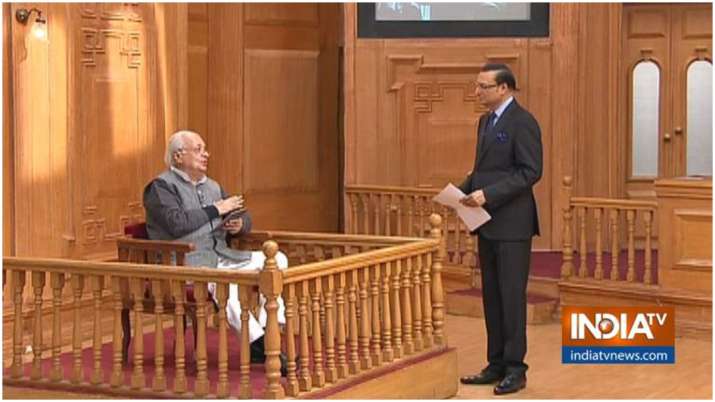 Citizenship (Amendment) Act has caused a great stir in our country. Even before it was passed by Indian Parliament on December 15, it was a topic of debate across the country. Healthy debate is a necessity for a strong democracy. But with the Citizenship (Amendment) Act, there were many who wanted to gain political mileage by spreading falsehoods.
Kerala Governor Arif Mohammed Khan dispelled rumours that surrounded CAA. He was in the witness box of Aap Ki Adalat, the iconic show anchored by Rajat Sharma, Editor-In-Chief and Chairman of India TV.
Arif Mohammed Khan is not only a veteran in Indian politics but he is also known for his support of progressive reforms in the Muslim society. He has a strong reputation of being extremely well-read and depth of his knowledge was apparent from his authoritative commentary on political issues in India.
"CAA has nothing to do with Indian Muslims," said Khan. He countered the claim that CAA was designed to revoke the citizenship of Indian Muslims.
"But then why only Muslims were kept out of the purview of the law? It wouldn't have gone amiss if Muslims also were given permission to apply for Indian citizenship," said Rajat Sharma.
"Citizenship (Amendment) Act does not stop anyone from applying for Indian citizenship," Arif Mohammed Khan clarified.
Khan then gave famous examples like Adnan Sami, Salma Agha who got Indian citizenship. 
Rumour mongers have spread many falsehoods on CAA. Sometimes, statements like 'Muslims do not feel safe in India' are casually thrown around.
When asked about this, Arif Mohammed Khan had a faint smile on his lips.
"They say Muslims aren't safe in India. Let them go to Pakistan to see horrific conditions there," said Khan, "On the day of almost every 'Jumma', bombs are planted inside mosques"
"Let them stay in Syria for a while, or even in Yemen," he said as the audience gave him a round of applause, 
"This law has nothing to do with Indian Muslims," he said again and again.
Kerala Legislative Assembly recently passed a resolution against the CAA. Kerala Governor Arif Mohammed Khan was seen by many as am opponent of that resolution. Khan cleared the air. Arif Mohammed Khan said that the assembly does have the right to pass a resolution. However, he said the issue remains outside its purview. 
At the outset, Arif Mohammed Khan said that religious minorities in Pakistan are paying the price of the partition. 
"These people had stood shoulder-to-shoulder with freedom fighters to fight against the British. But they suddenly found themselves in Pakistan and Bangladesh as a result of partition," said Khan.
Arif Mohammed Khan quoted Mahatma Gandhi who had said after partition that if religious minorities in Pakistan wanted to come to India, it was the duty of Indian government to provide citizenship to them. Khan asserted that CAA is a fulfilment of that very promise.
When Rajat Sharma asked Khan about 'Detention Centres', Khan suggested that rumours are being spread about these so-called 'Detention Centres'.
"Doesn't Indian Government have anything better to do than building such centres?" he asked.
Khan has an image of a reformer. Khan who was Minister of State in former PM Rajiv Gandhi's government, resigned from his post after Rajiv Gandhi government passed a law Khan did not agree with. It was in connection with the Shah Bano case. Arif Mohammed Khan said that at that time (1986),  All India Muslim Personal Law Board (AIMPLB) had supported the practice of triple talaq among Muslims.
AIMPLB's stand changed. not in subsequent years but decades. 2017, AIMPLB told courts that it is their belief that triple talaq was an unjust practice.
"Why did it take 30 years for AIMPLB for a change in opinion? asked Arif Mohammed Khan.
Watch the full episode of Aap Ki Adalat here.
Also Read | 'Why did AIMPLB take 30 years to oppose triple talaq?' asks Arif Mohammed Khan in Aap Ki Adalat
Also Read | CAA does not stop anyone from applying for citizenship: Arif Mohammed Khan in Aap Ki Adalat
Watch | Aap Ki Adalat: CAA will not revoke citizenship of any Indian, says Arif Mohammed khan