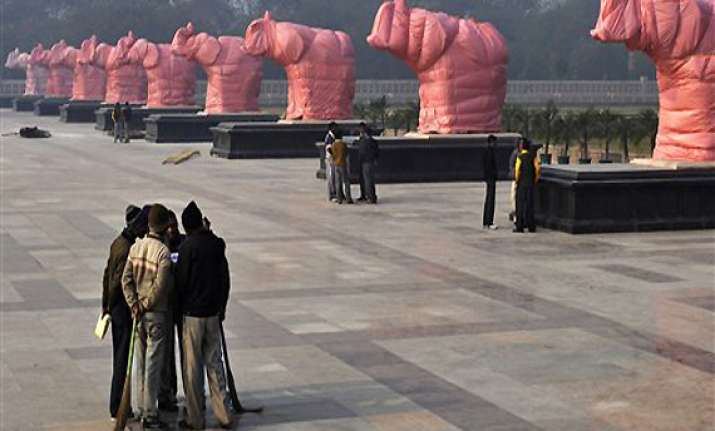 Lucknow, Jan 12: The Bahujan Samaj Party today hit back and wrote to the Election Commission that its decision of covering statues of chief minister Mayawati and party symbol elephant was one-sided, unjustified and in violation of Article 14 of the constitution.

BSP National General Secretary Satish Chandra Mishra said that due to the decision taken on the memoranda of SP, Congress and BJP, Dalits and backwards were feeling cheated. 

"The decision is violation of Article 14 of the constitution, which provides right of equality. Similar decisions should be taken against other parties also", he said in a letter to the EC.




"A number of BSP workers and supporters wanted to come out on roads to protest the EC decision but BSP supremo Mayawati has given them strict orders to them to maintain law and order so that election process did not get affected", Mishra pointed out.

BSP had expected that EC would hold free and fair elections but its decision had demoralised the party, Mishra said adding that had the EC taken unbiased decision on the issue, BSP would have been given equal chance in the elections.

"The statues installed in parks and memorials are in welcome position with upside trunk and the BSP symbol elephant has down trunk, which did not violate model code of conduct.  The elephants—one installed in parks and memorials and the party symbol do not have any similarity", he claimed adding the statues of the elephant are installed in a number of temples and government buildings.




Mishra said, "even in Rastrapati Bhavan, North Block and South Block elephant statues are there on upper parts of the pillars and also above the Speakers' chair in Parliament".  If EC has objection on "our elephant", it should also have an objection on SP symbol cycle, BJP's lotus and RLD's handpump.

"Handpump is installed everywhere on government expenses.  Also EC should also taken note of statues of former presidents and leaders of other parties", he said.

He said that statues of Mayawati, who is "dalit ki beti" and four time CM of Uttar Pradesh and BSP symbol elephant did not affect voters in any way.

"The EC should re-consider its decision, which is one sided so that BSP candidates should get equal opportunities in the assembly polls", he said.




A Lucknow report said, hours after the work of draping the statues of  Mayawati and elephant was completed, the parks in which they were installed here have been closed for the public till the assembly polls get over.

There are nine such parks including Manyavar Kanshiramj Green Eco Garden at VIP Road, Dr Bhimrao Ambedkar Samajik Parivartan Sthal, Gomtinagar and Smriti Upvan, Ashiana Kanshiram Smarak, Jail Road which were closed yesterday after the draping work finished.

While the Lucknow Development Authority refused to comment, staff in these parks said that they have been closed till the polls are over.

Dedicated to Dalit icons and built at an estimated cost of Rs 3,500 crore, these parks were thrown open for the public in October, 2011.

While the statues of Mayawati have been covered at all places with ply-boards, giant elephants have been covered with yellow tarpaulin.

The statues of elephants atop pillars were left uncovered at all memorials.

The EC had on Saturday last issued orders to cover all statues of Mayawati and the BSP poll symbol at various parks and memorials in Lucknow and Gautam Buddha Nagar (Noida).

While fixing January 11 as the deadline, the EC had asked the District Electoral Officers-cum-district magistrates of the two places to send a compliance report.