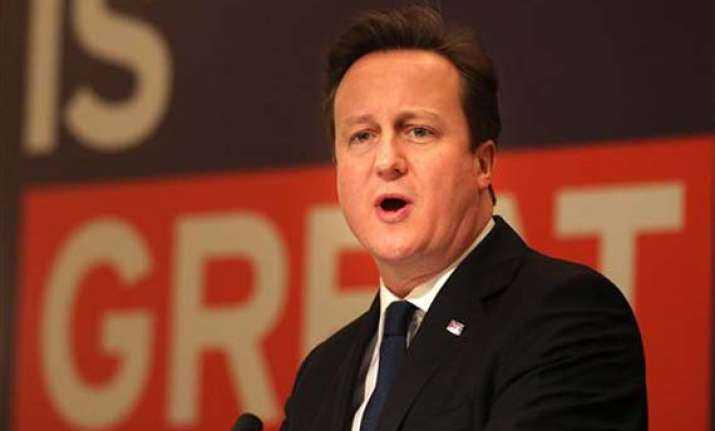 Mumbai, Feb 18: British Prime Minister David Cameron today began his India visit seeking a "special relationship" between the two countries, saying it is "about the future and not the past" for which sky is the limit.
"I want Britain and India to have a special relationship...This is a relationship about the future, not the past," Cameron said in his first public engagement here—an interaction with the staff of Hindustan Unilever, the Indian unit of British consumer products' giant, Unilever.
Describing India as one of the "great phenomena" of the century, Cameron, who is on a three-day visit to India, his second since assuming office in May 2010, said the enormous growth of the country is going to make it the third largest economy by 2030.
"I am heading the biggest-ever business delegation to leave British shores. India's rise is going to be one of the great phenomena of the century and it is incredibly impressive to see the vibrancy of your democracy, the great strength of your diversity and the enormous power of your economy that is going to be one of the top three economies by 2030," he said.
"As far as I am concerned, sky is the limit.. It's about business, economy and trade. But it is also about culture, politics, diplomacy. India is going to be one of the leading nations in this century and we will be partners and that's why I am here today," he said.
Britain wants to be India's partner of choice, the visiting premier said, adding the two countries have a lot in common such as history, language, culture.
"You are the largest democracy in the world, and we are the oldest," he said.
He also said both India and Britain face the extraordinary challenge of fighting terrorism.
"I am bringing with me the Premier League, top universities, museums—we want to tie up in so many different ways with your culture, your companies, your businesses, your people," Cameron said.
Cameron will fly to Delhi tomorrow for talks with Prime Minister Manmohan Singh on a range of issues. The Indian side during the talks is likely to seek more information from Britain on alleged kickbacks in the Rs.3,600 crore VVIP chopper deal.