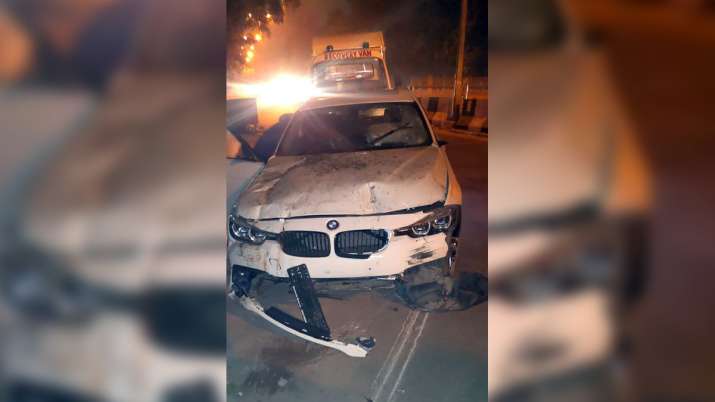 A BMW car ran over a policeman and crushed one of his legs in Delhi's Sarita Vihar on Wednesday. Later, the car also crashed after being chased by police. Another person suffered injuries in the incident. The police recovered alcohol from the vehicle. The man who was driving the BMW has been arrested.
The BMW car was parked near the Sarita Vihar market and some boys were celebrating birthday, police officials said. Constable Jitender and Constable Ankur requested them to go home, however, they didn't pay heed and began arguing. Officials said they claimed to be locals and refused to budge. 
The cops then called an Emergency Response Vehicle, following which the boys rushed towards Madanpur Khadar. They were followed by the vehicle. The constables signaled them to stop but the boys tried to hit Ct. Ankur who jumped and saved himself. Thereafter, the car driver hit Constable Jitender with the intention to kill him, crushed his legs and escaped, officials said.
On inspecting  the car, it was found that door of the car was open. Beer bottle was lying inside the car. Air bags were also found open. Later, officials found the car hit against a juice corner. 
A case has been registered under sections 186, 279, 332, 353, 307, 323, 427 and 34 of the Indian Penal Code (IPC) and 184 of the Motor Vehicles Act. 
Delhi: BMW car runs over policeman in Sarita Vihar crushing his leg & itself crashes after being chased by police. Alcohol was recovered from within the car at the incident spot.

A case has been registered under the IPC & the Motor Vehicles Act and a probe is on to nab accused. pic.twitter.com/o6yDRXwD2N

— ANI (@ANI) November 4, 2020