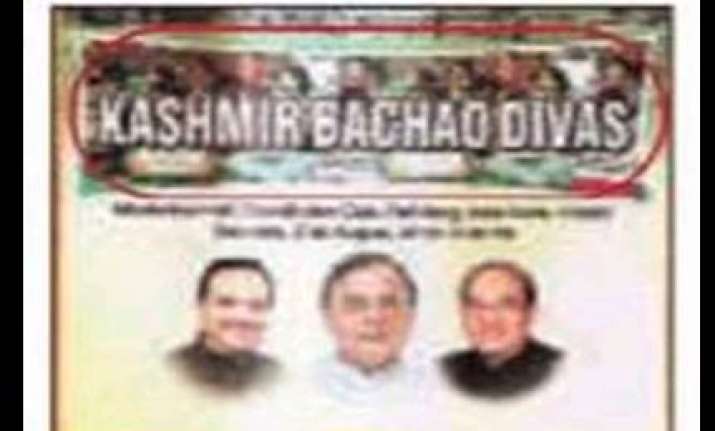 The Bharatiya Janata Party ( BJP) had put up banners promoting a discussion on the Kashmir issue at the Constitution Club on Saturday using photographs of a protest against the killings in Kashmir.
What the party failed to notice was that the photographs were of a demonstration organised by NGO Anhad, which had been formed in response to the hate ideology professed by saffron groups during the 2002 Gujarat riots, reports Mail Today.
Managing trustee of Anhad Shabnam Hashmi shot off a letter to BJP president
Nitin Gadkari
asking the party to apologise for the " illegal" use of the photograph and issue a clarification.
Hashmi said the photograph used by the BJP was of an Anhad demonstration organised at Jantar Mantar on July 8 against acts of violence by the security forces. The BJP, on the other hand, was promoting a meet on the law and order situation in Kashmir that called for stricter action against the protesters.
" To use our photograph in your advertisement is not only an insult to Anhad but also grossly defames our organisation because it seems to suggest that Anhad has given consent to the BJP to use the photograph. Nothing could be farther from truth," the letter said.
The further added that it gave a comic relief about the total bankruptcy of the BJP which used the Anhad photograph with slogans such as ' Stop killing innocent people in Kashmir', while having a diametrically opposite understanding of the issue.
Hashmi warned that if no satisfactory reply was received within a week, action would be taken against the party.
Earlier, the woman and child development ministry used the picture of a Pakistani army officer in an advertisement marking the national girl child day prompting the Prime Minister's office to issue an apology.
BJP used a picture of the Anhad protest in its banner on a debate on Kashmir.