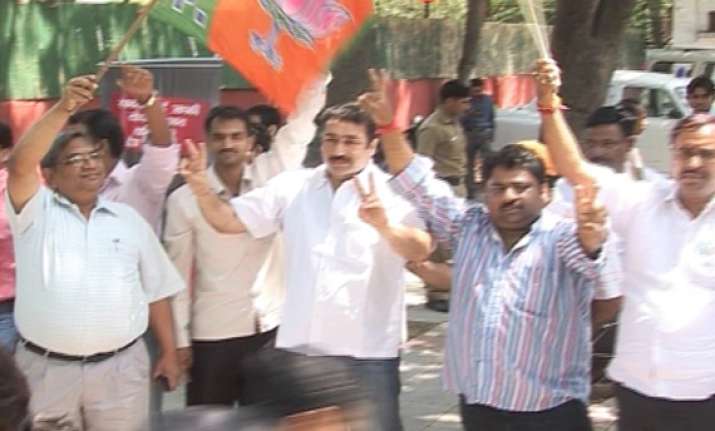 New Delhi, Apr 17:
BJP today scored a major victory in the Delhi civic polls capturing all the three newly-created municipal corporations in the capital, as Congress badly lost the civic polls coming after the poll debacle in UP, Punjab and Goa.
BJP won the MCD North polls securing a clear majority by winning 60 out of a total 104 wards, with Congress winning 27 and 'others' winning 17 wards.
Similarly, BJP won the MCD East polls securing a clear majority by winning 35 out of a total of 64 wards, with Congress winnin 18 and 'others' winning 10 wards.
In the polls for MCD South, BJP was clearly short of majority, securing 46 seats out of a total of 104, needing support from seven more councillors.  Congress stood second with 31 seats and 'others' won 27 seats.
BJP leaders said they were confident of getting the support of independents to cross the midway mark in MCD South.
The stakes were high for both the national parties in the municipal polls, considered as a semi-final ahead of the Delhi Assembly elections next year.
Today's BJP civic polls victory was a stinging reply to Delhi chief minister Sheila Dikshit's 13-year-old control over the national capital government.
In the 2007 polls to the undivided Municipal Corporation of Delhi (MCD), BJP had bagged 36.17 per cent of the around 42.35 lakh votes polled while Congress got 29.17 per cent. BSP's vote share was 9.87 per cent.
BJP has 164 councillors in the undivided MCD against Congress' 67 and BSP's 17.
Congress sought to downplay the results with party spokesperson Rashid Alvi saying that MCD polls should be seen only as civic polls. BJP's M Venkaiah Naidu said BJP's good governance in MCD and Congress' corruption resulted in the good show of his party.
Following are some of the prominent results:
Congress' Farhad Suri Wins From Nizamuddin, Anjana Sharma (Cong) Wins From Gandhi Nagar, Rajkumar (BJP) Wins From Kalyanpuri, Santa Jain (BJP) wins from Rithala, Ram Dayal Mahato (BJP) Wins From Pratap Vihar, Nirmla (BJP) Wins From Nithari, Shyam Sharma (BJP) Wins From Janakpuri North, Radhika Setia (BJP) Wins From Nagalraj,  Rajkumari(Cong) Wins From Hari Nagar, Mukesh Goyal (Cong) Wins From Dhirpur,  Pravesh Wahi (BJP) Wins From Rohini, Kishan Pahalwan (INLD) Wins From Najafgarh.
Dharamvir (Congress) Wins From RK Puram, Bansi Lal (Ind) wins From Geeta Colony, Satish Upadhyay (BJP) wins From Malaviya Nagar, Ankita Saini (BJP) wins from Hauz Khas, Kavita Malhotra (Cong) Wins From Lajpat Nagar, Simmi Jain (BJP) Wins From Daryaganj, Promila Tokas (Ind) Wins From Munirka , Nutan Kochar (Cong) wins from Ward 162, Poonam Bharadwaj (Ind) wins From Palam.
BJP's Master Baljit Won From Shahdara, BJP's Sudhama Arya Won From Rajouri Garden, Cong's Tulsi Devi Won from Dharam Pura.