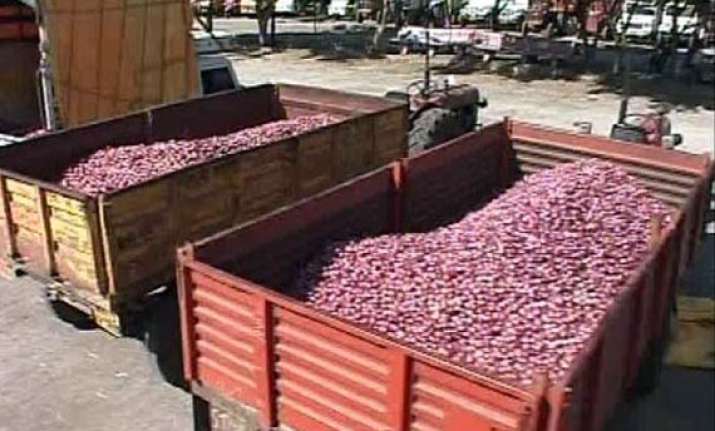 New Delhi: Delhi BJP yesterday slammed the government for allegedly failing to rein in onion prices in the city and said Maharashtra Chief Minister's advice to Delhi CM Sheila Dikshit had exposed the inefficiency of her government.
The Maharashtra Chief Minister had advised Dikshit to buy onions directly from Nasik to control prices in Delhi, but prices continue to soar, indicating no action has been initiated on ground, Delhi BJP chief Vijay Goel alleged.
"The Congress government is doing nothing on the ground to bring down the prices of onions. It is only paying lip service and taking cosmetic measures to pile up on common man's woes," Goel said while addressing party workers of the Outer Delhi district, South-West district and Keshavpuram district.
The Delhi BJP chief said the Congress government was in deep slumber even though another state government suggested it a few days ago to purchase onions from Nashik and sell them in Delhi to reduce prevailing prices.
"The Congress government claimed that onions are sold through Safal outlets. But, for a population of over 1.67 crores in Delhi, there are only about 350 Safal outlets, which is grossly insufficient. It has been a common experience that whatever onions arrive at these stores, it vanishes within an hour or so and even the quality of onions is bad," he said.
Moreover, even the Safal outlets are selling onions at a price around Rs 65-70 a kg, which is unaffordable for the common man in Delhi, he said.
Other vegetables are also in the high pricing zone with none of the regular vegetables available below Rs 50 per kg in retail markets in Delhi. Even potatoes are being sold at Rs 40 per kg, he said.
"The party will take up the issue of onion crisis at booth level in all 14 BJP districts. BJP will expose the inaction of Congress government on the issue of onion crisis and rising prices of essential commodities over the next few days," he said.