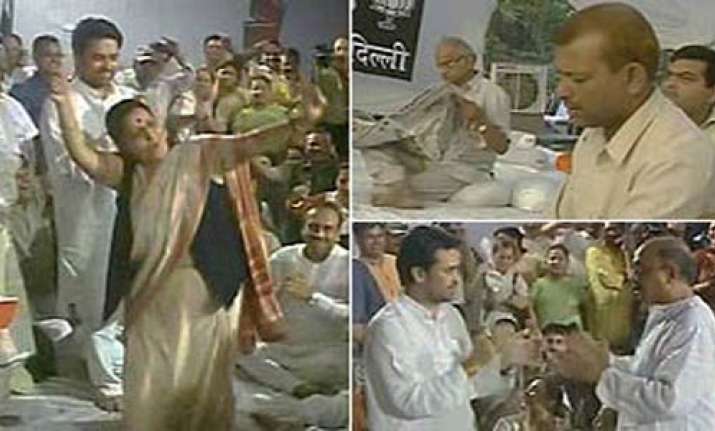 New Delhi, Jun 6 : Senior BJP leaders sat on a 24-hour-long fast at Delhi's Rajghat to protest the police action against Swami Ramdev's supporters.

BJP national leaders along with the Delhi BJP workers, set up a camp and even blocked traffic on the one side of the Ring Road for a while.

Senior leaders Nitin Gadkari, Arun Jaitley, Rajnath Singh and Kumar were present at the spot from the very beginning. Towards the evening, in a lighter mood, Sushma Swaraj almost danced in rhythm to a song on corruption.

"This was not done at merely the police level... This was done with the full knowledge and consent of UPA chairperson Sonia Gandhi, the Prime Minister, Kapil Sibal and home minister P Chidambaram," Swaraj told the media. She termed the police brutality as "pre-planned" and "completely unprovoked".

Jaitley chose to target the UPA's tolerance towards Kashmiri separatists and human rights activist Binayak Sen.

"This is a shameful chapter in the history of Indian democracy. Everyone has a right to protest. Nothing at the Ramlila Maidan showed an intention to create instability. The Centre has been tolerant even to those who have been trying to break India. This government did not act against the Kashmiri separatists who made speeches in the capital, so close to centre," he said.

"Those who have been convicted of sedition are inducted into government committees. But a deshbhakt sanyasi gets this [treatment]," said Jaitley.

Going on an offensive against Congress general secretary Digvijaya Singh, Jaitley alleged that the he "has been known through his idiom for lowering the level of political discourse in the country".

"The direction in which they are taking politics is worrying. For Osama Bin Laden, they use 'Osama ji' and with a saint like Baba Ramdev they use the term 'thug'. The Congress' ways will mislead politics," alleged Jaitley."We have been in support of the spirit of this movement, even though we have minor differences," he said about Ramdev's movement.