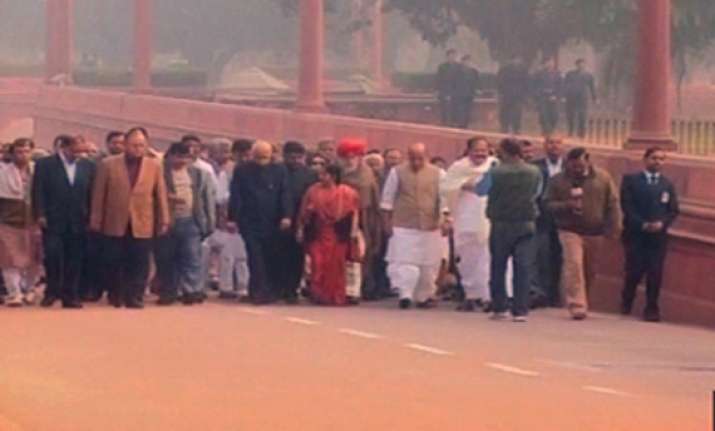 New Delhi, Jan 5: The entire phalanx of the senior BJP leadership today marched to Rashtrapati Bhavan to meet the President and demand early reconvening of Parliament to pass the pending Lokpal Bill.
 
Led by party president Nitin Gadkari and senior leader L K Advani, party leaders including Sushma Swaraj, Arun Jaitley, Rajnath Singh and almost all party MPs marched to Rashtrapati Bhavan.
 
Later, Leader of Opposition in Rajya Sabha Arun Jaitley told media that the government had taken the subterfuge of 'contrived disturbance' to avoid voting on Lokpal Bill in the House.
 
Jaitley said, there had been precedents of Rajya Sabha sitting late after midnight to pass important bills and finish the day's agenda, and there was no bar on ending the session at exactly midnight.
 
"Since according to the Constitution, the President is part of Parliament, we told her that the very credibility of the institution of Parliament is at stake", said Jaitley.
 
"We requested her to reconvene Parliament again so that we can finish off the voting process which was about to begin in Rajya Sabha on the Lokpal Bill", said Jaitley.
 
"The President assured us that she would examine all aspects", the BJP leader said.
 
Almost all the BJP leaders refused to comment on the induction of 'tainted' ex-BSP minister Babu Singh Kushwaha, and maintained an ominous silence on the issue.