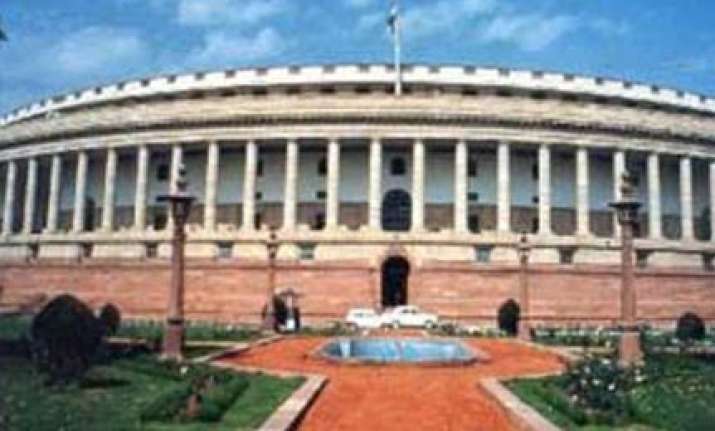 New Delhi:A much talked about bill seeking a three-fold hike in salaries of MPs from Rs 16,000 to Rs 50,000 and doubling their two key allowances to Rs 40,000 each was introduced in the Lok Sabha on Wednesday .  
The bill proposes to raise the daily allowance for members from Rs 1,000 to Rs 2,000 and the constituency and office expense allowances each from Rs 20,000 to Rs 40,000.  
Introduced by Parliamentary Affairs Minister Pawan Kumar Bansal, the Salary, Allowances and Pension of MPs (Amendment) Bill also enhances pension of former members from Rs 8,000 to Rs 20,000 with effect from the constitution of the present Lok Sabha on May 18 last year.  
Though the day's order paper did not mention about the introduction of the proposed legislation, the Minister did so shortly before the House took up for consideration the Civil Nuclear Liability Bill.  
The Joint Committee on Salaries and Allowances of MPs headed by Congress member Charandas Mahant had recommended a hike in salary from Rs 16,000 to Rs 80,001 -- one rupee more than that of the Secretary to the Government of India.  
In the statement of objects and reasons of the bill, the Minister said the Government after going through the report of the Joint Committee has decided to accept certain recommendations.
The Government's decision on the Joint Committee report had brought protests in Parliament from a section of MPs led by Lalu Prasad  (RJD) and Mulayam Singh Yadav (SP) who had dubbed it as an "insult" to members by organising a mock Parliament. Following the protests, Government bought peace by raising the Constituency and Office allowance by Rs 5,000 each.
The Minister said the provisions for raising salary, daily allowance and minimum and additional pension would involve a recurring annual expenditure of Rs 103.76 crore. One time expenditure of Rs 118 crore would be incurred on account of arrears of salary and pensions from May 18 last year to July this year. Besides, he said doubling of the constituency and office expense allowances would involve an annual recurring expenditure of Rs 38.50 crore.  
The bill also seeks to provide for the rail travel facility of spouse of a member to travel any number of times by rail in first class AC or executive class in any train from the residence of a member to Delhi and back. The spouse can also travel by air whenever Parliament is in session subject to a maximum of eight trips in a year.
It also has a provision to enhance the repayable advance for purchase of conveyance from Rs one lakh to Rs four lakh. PTI