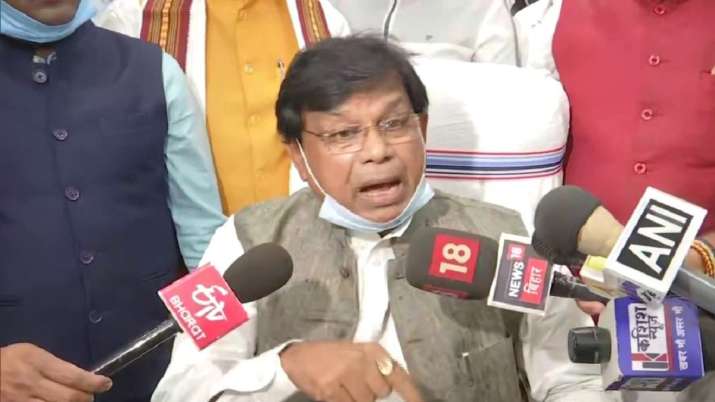 Just three days after taking the oath, Bihar Education Minister Mewalal Choudhary on Thursday resigned amid corruption allegations levelled against him.  "An accusation is proven only when a charge sheet is filed or a court gives an order and none of the two is there to prove the allegations against me," Chaudhary told reporters. Following Mewalal Chaudhary's resignation, Building Construction minister Ashok Chaudhary has been given the additional charge of the education ministry.
Mewalal Chaudhary had been facing severe criticism from the RJD-led opposition ever since he took oath as minister earlier this week. Tejashwi Yadav's party posted a series of tweets pointing that the lawmaker, who won from the Tarapur constituency, was expelled from the Janata Dal-United in 2017 over corruption charges. He was re-inducted in the party later.
"The corrupt JDU MLA Mewalal has been given a ministerial position by Nitish Kumar. This is the double standard of Nitish Kumar," the RJD said in a tweet.
मैंने कहा था ना आप थक चुके है इसलिए आपकी सोचने-समझने की शक्ति क्षीण हो चुकी है।

जानबूझकर भ्रष्टाचारी को मंत्री बनाया
थू-थू के बावजूद पदभार ग्रहण कराया
घंटे बाद इस्तीफ़े का नाटक रचाया।

असली गुनाहगार आप है। आपने मंत्री क्यों बनाया??आपका दोहरापन और नौटंकी अब चलने नहीं दी जाएगी?

— Tejashwi Yadav (@yadavtejashwi) November 19, 2020
According to reports, Mewalal Choudhary was accused of irregularities at the Bihar Agriculture University (BAU) in Bhagalpur when he was its Vice-Chancellor.
ALSO READ: Bihar's new education minister struggles to recite 'Jana Gana Mana', RJD tweets old video to target Nitish
In 2016, Mewalal Chaudhary, who was then the Vice-Chancellor of Sabaur Agricultural University in Bhagalpur, was accused of irregularities in appointments. Chaudhary, who was considered close to Chief Minister Nitish Kumar, was accused of wrongly reinstating 161 assistant professors while he was the Vice-Chancellor. A case was also registered against him in the matter.