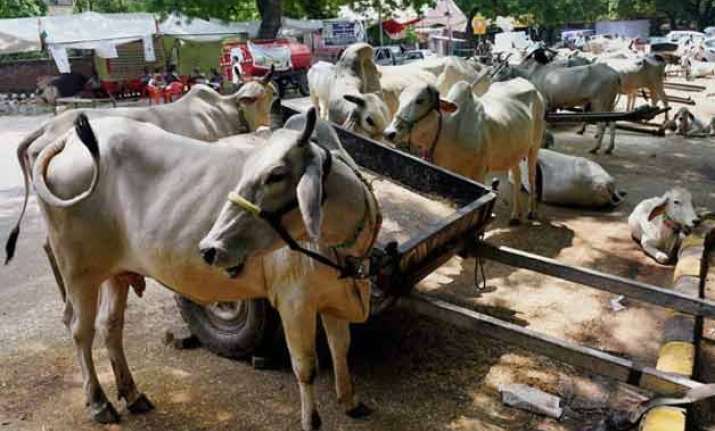 Mumbai: The BJP government of Maharashtra today told the Bombay High Court that the beef ban is just the beginning and indicated that the ban on slaughter of cow and its progeny might be extended to other animals.
Maharashtra advocate general Sunil Manohar made the statement in the honorable court while justifying the new state law which bans slaughter of bulls and bullocks and possessing its meat. He said that the law has been drafted as per the Constitutional principles and to ensure prevention of cruelty to animals.
When a division bench of Justice V M Kanade and Justice A R Joshi inquired why the state had only then banned the slaughter of bulls and bullocks, Manohar replied, "We have started with cows and its progeny. A beginning has been made. The state might consider others too."
"That may lead to migration from the state. Don't consider a ban on fishes though," the judges, observed in jest. The court also asked the state to consider issuing licenses, like in the case of liquour, for the possession of beef or beef products. The state asked the HC to let the law evolve and it may consider requirements in the future.
The HC has ordered the state to file an affidavit explaining its stand, especially section 5 D of the Maharashtra Animal Preservation (Amendment) Act. The section makes it a crime to possess the flesh of bulls, bullocks and cows, even if they have been slaughtered outside Maharashtra.
While arguing the petitioners' stand that the law violates the right to eat, under the fundamental right to life, the advocate general said that the law had been enacted to protect cow and its progeny as well as prevent cruelty to animals. The advocate general said that the ban on possession of beef for consumption or any other purpose is only incidental.
The Maharashtra government amended the old Maharashtra Animal Preservation of 1976 and the President gave his consent in February this year. The new law bans slaughter of cows, bulls and bullocks as well as possession and eating of beef. Slaughter is now punishable with a jail term of up to five years and a fine of Rs 10,000 and the possession attracts maximum one year imprisonment and a fine of Rs 2,000.