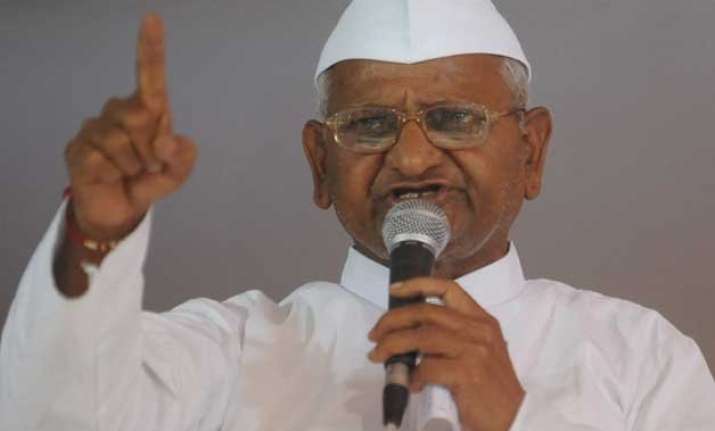 Faridabad: Anti-graft crusader Anna Hazare today threatened a Lokpal-type agitation on the land ordinance issue and asked people to join him for the cause and be even prepared to go to jail.
Launching his 'Jal-Jungle-Zameen' march to Delhi from here for his proposed two-day protest at Jantar Mantar from February 23, he claimed that more than 50,000 farmers from Punjab, Uttar Pradesh and Haryana would be joining his agitation against changes to the Land Acquisition bill.
"Once people are awakened, a larger agitation would be initiated at Ramleela Ground. Then we will not leave Delhi but launch a 'jail bharo' agitation," he said, adding the agitation will not be called off even after three months if the government went ahead with the changes.
"Be ready to go jail," he told the gathering at Palwal.
77-year-old Hazare alleged that the NDA government was benefiting industrialists and "taking away" farmers' rights.
"The government is taking away the rights of poor farmers and giving their land to industrialists," he alleged.
"Unless 70 per cent people are ready for their land to be acquired, government does not have the right to acquire the land but the law was changed," he said.
On the NDA government's performance, he said, "We heard during the election days that good days will come but nine months have passed since then. Where are the good days?"
He said Delhi Chief Minister Arvind Kejriwal has assured all support to the movement. The two had campaigned together in 2011 for the anti-corruption Lokpal law before parting ways in 2012.
Before starting the march, Hazare paid tribute to Mahatma Gandhi at the Gandhi Seva Ashram where he also planted a sapling.
The 'yatra' was organised by Rajgopala P V and witnessed the participation of thousands of his followers. Activist Medha Patkar among others was present during the occasion.