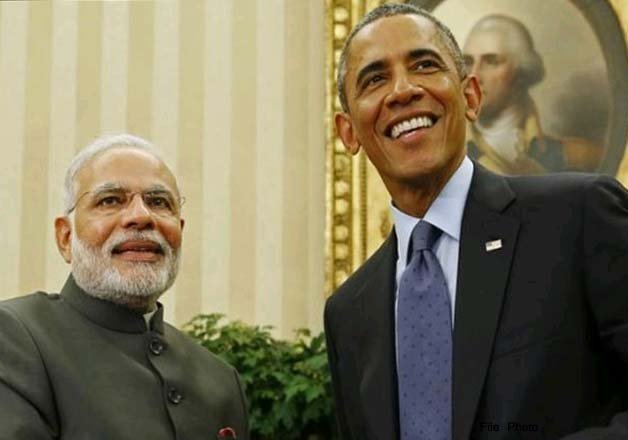 New Delhi: Prime Minister Narendra Modi's "historic" election May 2014 was a clear indication of the people's desire for "inclusive" and "good governance", US President Barack Obama has said.
"Prime Minister Modi's historic election clearly reflects the desire of many Indians for economic growth that is inclusive, good government that serves citizens, and education that delivers the skills Indians seek," Obama said in an interview to a weekly magazine which is published in its upcoming issue.
Referring to Modi's life journey from a tea vendor to becoming the prime minister of the country, Obama said: "His remarkable life story -- from tea seller to prime minister -- is a reflection of the determination of the Indian people to succeed."
He said the prime minister's maiden visit to the US early last September was an opportunity for him to benefit from Modi's resounding mandate in 2014 that imbued "new hopes and energy".
Obama was impressed with Modi's vision for India as well as the readiness and energy he exuded to eliminate the barriers hampering economic growth.
The president, arriving in New Delhi Jan 25 on a three-day visit to attend the Republic Day parade as chief guest, saw it as "an opportunity" to advance the new India-US joint vision that the two countries agreed on during Modi's visit to the US last year.
Terming India-US relations as one of the "defining" partnerships of the 21st century, US President Barack Obama Friday said forging closer ties between the two countries has been a key part of his foreign policy.
"Forging deeper ties between our two nations has been a key part of my foreign policy since I took over office," Obama said in an interview to India Today magazine.
Replying to a question on whether he and Prime Minister Narendra Modi were trying to make up for lost time, Obama said: "I recognized India with our first state visit and I came to India early in my presidency, because I firmly believe that the relationship between the United States and India can be one of the defining partnerships of the 21st century."
The US president, who arrives in India on a three-day state visit Sunday, said: "We are natural partners, two great democracies, our strength is rooted in the power and potential of our citizens. As entrepreneurial societies, we're global leaders in innovation, science and technology."
"Given India's strategic location, we can advance our shared security and prosperity in the Asia-Pacific. When India and the US work together, both our countries, and the world, are more secure and prosperous," he added.
Obama said that when he addressed the Indian parliament on his last visit in 2010, he had outlined his vision for "how we could become global partners meeting global challenges".