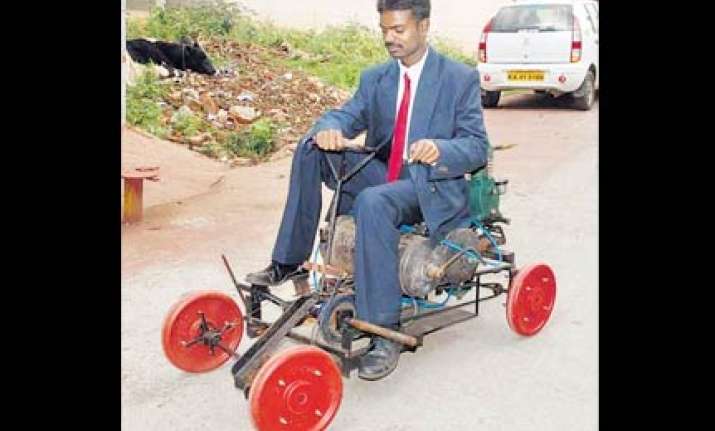 Nanjundaiah K, a management graduate from Bangalore plans to provide uninterrupted power supply to his village using air power instead of electricity.
After designing city's first phoenix air engine car, he plans lighting his village using the same technology, reports Mid Day. 
"Preparations are on to light up my village using this technology," said Nanjundaiah. "The technology has proven handy in making of my dream car. I hope to repeat the same on a larger scale." 
Coming from a poor background, it was his keen interest, which led him to design the car.
Nanjundaiah, who recently showcased city's first ever air- powered vehicles a car, a motorcycle and an auto, has bigger plans.
The III semester student from Gupta College of Management and Technology hails from MG Palya of Ramnagar district near Bangalore, and plans to solve his village's load shedding woes using the same technology to ensure an uninterrupted 24-hour power supply.
"We suffer a consistent power crisis in our village, even though we are just a few kilometers away from the state capital," added Nanjundaiah. "I want to change all that."
Nanjundaiah created the engine out of scrap materials. The 8 horse power engine that converts compressed air into energy is capable of producing electricity that can light 25 houses, if fitted with a dynamo. 
The setup is to be materialised in the next four months.
Nanjundaiah, who is yet to apply for a patent, has sought help from various authorities before he starts his new venture.
"We helped him assemble his car," said S Revanna, proprietor, Siddeshwara Engineering Works. "He came with a concept, but had no capital.
If his car is developed, it can be on par with the existing ones." A few have agreed to help him as well.
"He has approached me for help. Considering the efforts he has put in, we will certainly find ways to help him," said SK Natraj, Mayor, BBMP.