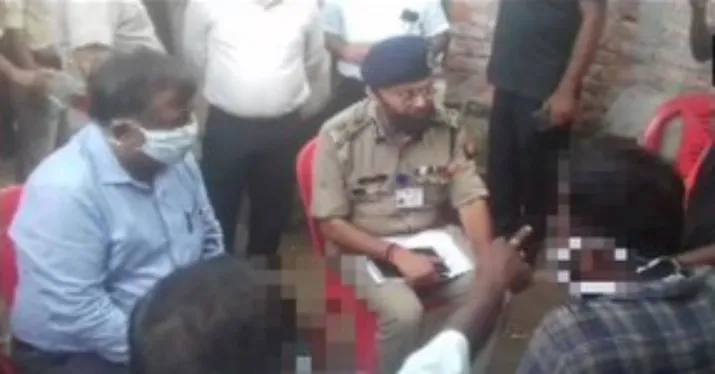 In an apparent damage control exercise, UP Additional Chief Secretary (Home) Avanish Awasthi and ADG Law and Order Prashant Kumar met the family of the alleged gang-rape victim in Balrampur on Sunday. Speaking on the incident after meeting the family, ACS Home Awasthi said that they have assured the family that stringent action will be taken against the guilty. The case will be tried in a fast-track court. If required, action will be taken under the National Security Act (NSA). Speaking on action against culprits, he said 4 accused have been arrested till now.
ACS Home further said, "We will monitor whatever points the family has raised very closely. Their main issue is that no perpetrator should go free & there should be strict proceedings against them."
"It will be prosecuted in the fast track court. So far 4 accused have been apprehended-Shahid, Sahil, subcontinent, Mohammad Rafik. DIG and DSP directed to look into the matter intensively," said UP Additional Chief Secretary Home Avnish Kumar Awasthi.
What is Balrampur gangrape case?
A 22-year-old woman died after she was allegedly gangraped in the district on September 29. The accused has been arrested. The woman had died after she was allegedly gangraped in the district on September 29. The victim, a second-year B. Com student, had gone to a college in a nearby town to pay her fees on Tuesday. According to the family, she also worked in a private firm.
Later in the night, the woman reportedly came home in a rickshaw in a semi-conscious state. She had a cannula injected in her hand which indicated that she had undergone treatment. Family members said that the woman looked dazed and in a serious condition. The family rushed her to a nearby hospital, but she died on the way.
(With inputs from IANS)
ALSO READ | Was it even my daughter: Hathras victim's father on hurried cremation
ALSO READ | UP CM Yogi Adityanath orders CBI probe into Hathras gangrape and murder case