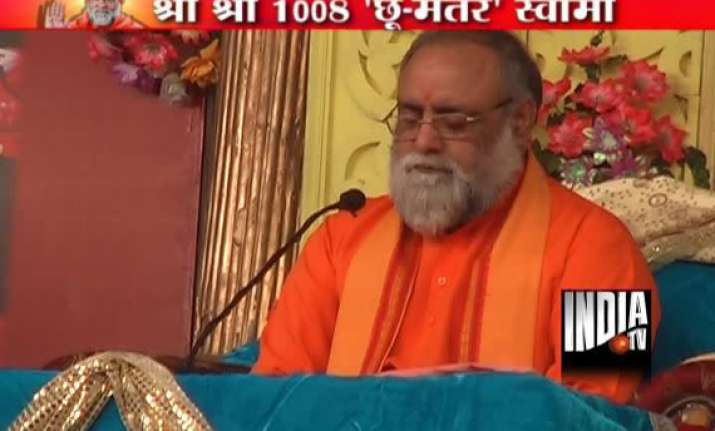 New Delhi/Mumbai/Chandigarh, June 23 : This is the amazing story of a small-time ayurveda medicine seller from Delhi's downmarket Nirankari Colony metmorphosing into a global hi-flying godman named Brahmrishi Kumar Swami, feted by New York State Senate. 
His spiritual center Laxmi Narayan Dham has branches in  Delhi, Mumbai, Chandigarh, Jaipur, Jalandhar, Shimla, Lucknow, Mohali and Ludhiana. He has centres in different cities of the world including New York.  
Kumar Swami has nine spiritual centers in the US. There are centers in UK and Canada also. Kumar Swami's devotional gatherings are telecast on six TV channels abroad, watched by millions of his devotees.  
The self-styled godman claims to perform miracles and cure patients with the help of 'beej' mantras, but one of his devotees 78-year-old Ramesh Chandra Adhir, a resident of Solan, challenged his miracle power by filing an FIR last year.  
Adhir's six-year-old great grandson Manav could not speak nor hear since birth. Two years ago, after watching the swami's claims about his miracle powers on TV, he rang up the Laxmi Narayan Dham, and  paid Rs 2100   through demand draft on February 16, 2011 seeking the swami's divine intervention.  
Adhir got the 'beej mantra' written on the Laxmi Narayan Dham letter pad on which Manav's picture was pasted and he was advised to carry out Shri Durga Saptashati Satchandi Path. For one and a half year, the prayers were performed but there was no improvement in Manav's condition.  
"I was cheated. The child was not cured at all", says Adheer. He then rang up the Laxmi Narayan Dham, and  tried to meet the godman at his samagam on May 12 and 13 in Solan, but was not allowed to meet him. 
After Adhir filed an FIR with Solan police, the aides of Kumar Swami offered him travel expenses to come to Chandigarh with the child. The baba offered to return him the fee of Rs 2100, and blamed the child's parents for not being cured.  
"The baba told me that I was from the child's maternal side, and the poojas should have been made by the child's parents themselves, who were his blood relations", says Adhir.  
After a meeting with the swami, Adhir withdrew his complaint filed with the police, but this incident raises questions about how self-styled godmen dupe their devotees.  
Kumar Swami's devotees include  actors who performed the roles of Ram(Arun Govil), Laxman, Yudhisthir(Gajendra Chauhan), Arjun (Feroze Khan) in the Ramayana and Mahabharata serials.  
Among the devotee politicians, BJP MP from Amritsar ex-cricketer Navjot Singh Sidhu once promised to spend Rs 50 lakhs from his MP Local Area Development Fund on  baba's beej mantra research.  
Kumar Swami was felicitated by New York State Senate  in the presence of 60 state senators  on May 2, 2011 and by the British House of Commons.  
This led to the self-styled godman bragging that he "saved" former US President Bill Clinton from being impeached during the Monica Lewinsky episode.  
Kumar Swami was K.K.Nagpal till 1986 living in 5/120, Sant Nirankari colony, Delhi.  He has named his palatial house Laxmi Dham, and his wife has been named Gurumata, who appears with the baba in all his gatherings.  
The house in Sant Nirankari colony is manned by security guards with cctv cameras round the clock to shoo off unwanted intruders.  
Kumar Swami also has his office in C-27, Greater Kailash, Part I, Delhi.  The swami has addressed  more than 298 samagams(gatherings) so far and he will be addressing his 300th samagam in Delhion July 2 and 3. 
His son runs his Arihant Industries and has a fleet of expensive cars. He spends a leisurely time in seven-star deluxe hotels and is often seen with women.