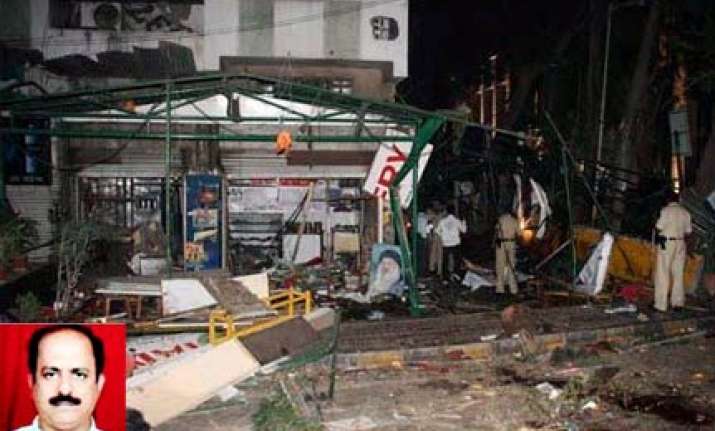 The Pune Anti-Terrorism Squad (ATS) allegedly detained Arif Pathan, 42, a Congress leader from Kalyan in connection with the German Bakery blast in Pune, reports Mumbai Mirror.
Pathan was reportedly picked up on March 3 and interrogated by the Pune ATS for two days. A team of Pune police picked up Pathan from the Congress office in Kalyan-Dombivli Municipal Corporation (KDMC) premises. An officer identified as Joshi and some other ATS officers had come to Kalyan to detained Pathan.
 When contacted, Rajendra Joshi, a police inspector from the Pune Crime Branch said, "I went to Kanyakumari, not Kalyan." 
However a dairy maintained at the Bazarpeth Police Station in Kalyan clearly mentions about the Pune ATS picking up Pathan for inquiries.
The ATS officers remained tight-lipped about the reason why Pathan was picked up.  Police sources said that a team of Congress leaders met a Deputy Commissioner of Police (DCP) at Pune and wanted to know about Pathan's activities.
The DCP assured the delegation that Pathan would picked up just for interrogation. "Yes, the Pune ATS had picked up Pathan and taken him to Pune," confirmed Bhujangrao Shinde, DCP Kalyan.
Pathan is a transport committee member in KDMC. He had also contested for the President's post for the Transport Committee Elections on March 3 but he lost.  He has also served as the personal assistant of Congress MLC Sanjay Dutt from Kalyan. Sources from the Pune ATS said that they have picked up two suspects from the Janawadi area in Pimpri Chinchwad.
One of the suspects is believed to be associated with Indian Mujahideen leader Riyaz Bhatkal. Pathan's name cropped up when the cops were interrogating these two suspects. Despite repeated attempts, Pathan was not available for comments as his cellphone was switched off. The detention of Pathan has left the Congress leaders in Kalyan red faced. On Friday a majority of them had switched off their cellphones to avoid the media.