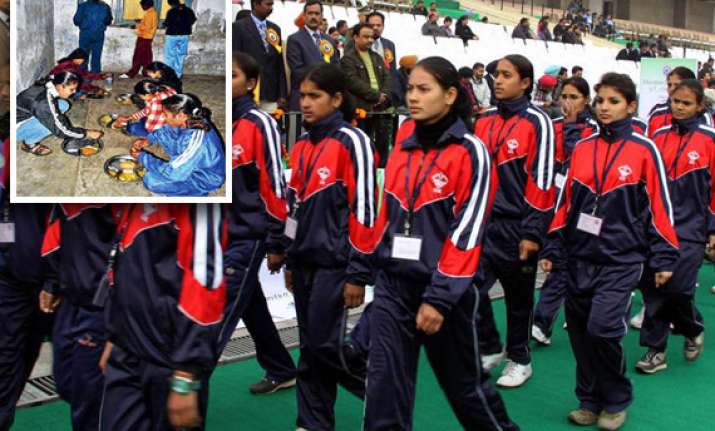 Ludhiana, Punjab, Jan 19: It was a pathetic scene at various schools in Ludhiana, where athletes from all over the country are staying to take part in the 57th National School Games.

In shivering cold, the school athletes have been asked to sleep on durries spread on the floor. No blankets have been provided.

Last time champions Kerala threatened to walk out of the Games after they were horrified on seeing the arrangements at the multi-purpose school here. They were immediately shifted to Khalsa Senior Secondary School.

Several of the athletes have shifted to hotels at their own expense, because of lack of amenities in the schools. Complaints poured in from coaches and players from Haryana, West Bengal, Bihar and UP contingents too.

Twenty-one schools were kept ready in Ludhiana to house the participants. At the Govt Senior Secondary School Multi-purpose hall and Ramgarhia Girls Senior Secondary School, there were no beds or blankets for the athletes. They were asked to sleep on durries spread on the floor. The washrooms were in a pitiable condition.

Over 3,500 players are taking part in the  57th National School Games  inaugurated at Guru Nanak Stadium on Wednesday. 

To make things worse, even the school students who were to see the inaugural function of the Games so as to fill the stadium were told to reach the stadium by foot. More than 2,000 students came by foot from various schools which were as far off as 8 km.

Officials, too busy with election-related duties, failed to check the arrangements and did not provide enough facilities to the spectators. The children braved the chill and came walking.

The players rued that they have been given rooms in the already operational schools. On Tuesday night they were not even given any bedding and had to sleep in the blankets brought by them.

The sports authorities said they would to look into the arrangements and take necessary measures.

However, for a change no political speech was heard in the stadium when the function was inaugurated by Education Secretary Hussan Lal in view of the Election Model Code of Conduct. The Games will be held over six days in the under-14, under-17 and under-19 categories.

Colourful cultural progrrames were also witnessed at the inaugural function, apart from a march past by the students. The oath-taking ceremony was performed by Punjab's Bhumika Thakur, who had won national medal in long-jump.

The players are staying in schools and colleges where classes are already on. The school managements have shifted the students to other classes who are facing more problems.