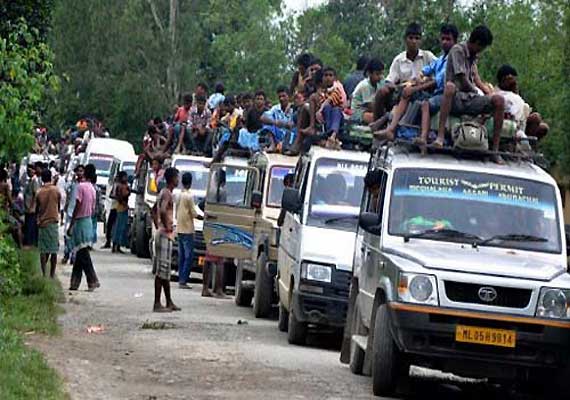 Guwahati, Aug 22: As many as 8,186 people have left for their homes from relief camps in riot-hit districts in Assam.
Altogether 7,498 people have left the camps in Kokrajhar district and 688 in Chirang district since Tuesday, officials said here today.
However, riot victims living in temporary shelters in Dhubri and Bongaigaon districts are staying put, they said.  
Currently there are 2,56,891 people living in 223 relief camps in the four districts, which were rocked by ethnic violence in which 78 people lost their lives, the officials said.
Dhubri has the highest number of 1,46,214 people living in 133 relief camps, followed by 57,715 victims in 53 relief camps in Kokrajhar.
In Chirang there are 40,408 people in 23 camps, while in Bongaigaon 12,554 people are living in 14 camps.  
The camp inmates included 2,15,794 Muslims, 40,992 Bodos and 105 belonging to other communities, officials said.  
As many as 4,85,921 people had taken shelter in 340 relief camps during July end and first week of August, when the ethnic violence was at its peak in the state.