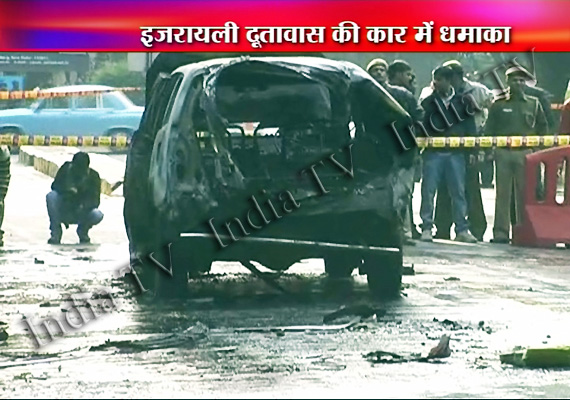 New Delhi, Feb 13: An Israeli embassy car on Monday exploded close to the mission here in a suspected coordinated terror attack after a car bomb involving an Israeli embassy vehicle in Georgian capital of Tbilisi was defused.

According to initial investigations, two motorcycle borne youths tailed the Israeli Embassy vehicle on Aurangzeb Road in the high security zone, not far from Prime Minister's residence, and allegedly placed "something" in the rear of the car when it stopped at a traffic signal.

Minutes later, there was an explosion and the Toyota innova bearing number 109-CD-35 went into flames.




Three persons including Administrative Attache of the Embassy received injuries in the incident at 3.15 p.m. near a petrol station, located 500 metres from the 7, Race Course Road official residence of the Prime Minister.

DR. N D Khurana of Ram Manohar Lohia Hospital said, the Israeli diplomat 42-year-old Ms. Tal Yeshova is undergoing spinal surgery as she had multiple injuries. She is "critical, but stable", the doctor said.

She has been shifted to ICU for treatment of injuries caused by splinters.

Ms Tal Yeshova was on her way to pick up her children from American School. The driver Manoj is conscious and is undergoing treatment in hospital.





An indication that the incident in Delhi could be a part of targeted attacks on Israeli staff came when a Foreign Ministry spokesman said in Jerusalem that there have been incidents in which embassy staff were targetted in Tbilisi and New Delhi.

The incident came a day after the fourth anniversary of the killing of Hezbollah's deputy leader Imad Mughniyah.

Delhi Police spokesperson Rajan Bhagat said two Israeli embassy employees were injured in the incident. "We have rushed bomb disposal squad to the spot. We are investigating the cause of fire," he said.

An eyewitness Ravir Singh, who is the owner of a nearby petrol pump, said he heard a loud noise following which he rushed to the spot.




"I was at my petrol pump. I heard a loud noise. I rushed to the spot and found a car in blaze. A fire tender from nearby airforce station was at the spot dousing the flame," Singh said.

Police said the four cars were damaged in the incident.

Medical Superintendent of Ram Manohar Lohia hospital, Dr T S Sidhu, said "three persons with splinter injuries have been brought. They will be discharged soon".

They were identified as Manoj Sharma (40), Arun Sharma (40) and Manjeet Singh (75).

A post blast team of the National Security Guard (NSG) was called in from Manesar to probe the incident.