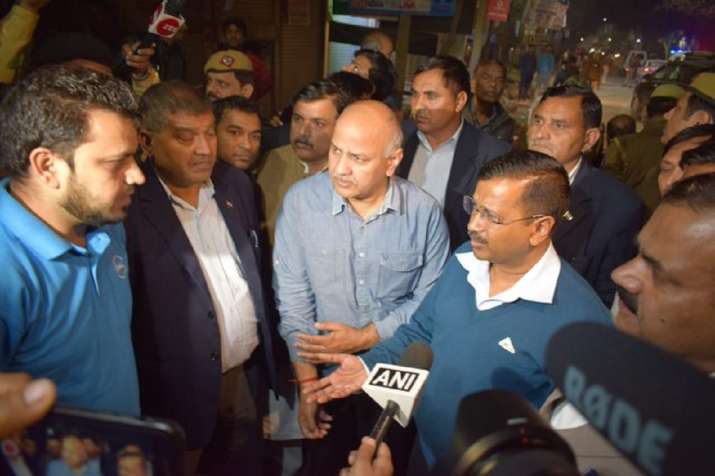 Delhi Chief Minister Arvind Kejriwal Wednesday visited sensitive areas in Northeast Delhi where violence was unleashed by rioters against the new Citizenship law. Both of them also interacted with locals and took stock of the situation. The violence has claimed over 20 lives so far. The chief minister also visited the office of deputy commissioner of police (northeast). He was accompanied by Delhi Deputy Chief Minister Manish Sisodia and AAP leader Sanjay Singh.
मुस्तफ़ाबाद के बेहद तनावग्रस्त इलाके शिव विहार में लोगों से मुलाकात करने पहुँचे मुख्यमंत्री @ArvindKejriwal और उपमुख्यमंत्री @msisodia। pic.twitter.com/6fnq3bU3D4

February 26, 2020
Delhi CM @ArvindKejriwal met DCP of North-East Delhi in latter's office.

After meeting the DCP, Delhi CM is going to visit the riot affected areas in North East Delhi to take stock of the situation. pic.twitter.com/Ld8cUUHWqj

— AAP (@AamAadmiParty) February 26, 2020
Kejriwal today said his government would give a compensation of Rs 1 crore to the family of head constable Ratan Lal who was killed in the violence.
The areas in Northeast Delhi -- Maujbur, Jafrabad, Khajuri Khas, Karawal Nagar among others -- witnessed widespread violence over the past few days. However, no new incident of violence was reported today.
Earlier on Wednesday, National Security Advisor (NSA) Ajit Doval visited the riot-affected areas and assured that the situation was under control. This is was his second visit to the riot-hit areas in less than 24 hours.
WATCH VIDEO: