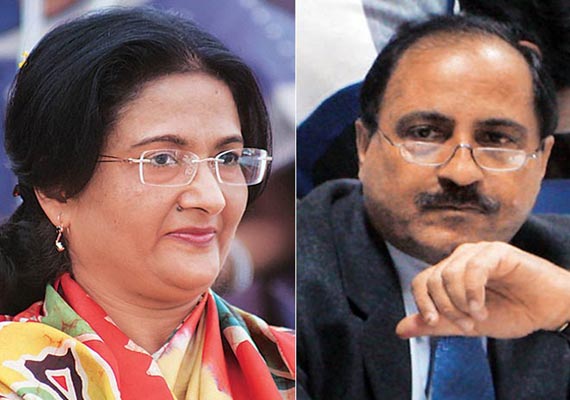 New Delhi: For the first time in the history of the Indian Administrative Services, two IAS officers Arvind Joshi and Tinoo Joshi have been dismissed from service by the government, four years after an income-tax search on their house led to the detection of disproportionate assets worth Rs 350 crore and recovery of Rs 3 crores in cash.
Arvind and Tinoo Joshi were dismissed from service by the government a day after receiving the go-ahead from the Department of Personnel and Training (DoPT), said sources. Their properties were found to 3,151% more than their legal source of income.
Both Arvind and Tinoo are 1979 batch IAS officers of Madhya Pradesh cadre. They were suspended in February 2010 following the income tax search on their residence in Bhopal. Arvind was due to retire next month and his wife in October.
Following the Income-Tax raids, it was alleged that the couple owned 25 flats of which 18 are in Guwahati, six in Bhopal and one in New Delhi. Papers of seven plots at Patel Nagar in New Delhi were also recovered.
The couple reportedly bought agricultural and non-agricultural land at several places including Kanha and Bandhavgarh National Parks, Raisen, Balaghat, Sehore and Bhopal in Madhya Pradesh, according to an appraisal report by the Income Tax department.
The I-T department claimed that the raids had resulted in recovery of jewellery worth Rs. 67 lakh and foreign currency worth Rs. 7 lakh.
Following the raids, the IAS officers were suspended in February 2010. Subsequently the Madhya Pradesh Government recommended that they be dismissed from service.
Stating that his government will have zero-tolerance towards corruption, Madhya Pradesh Chief Minister Shivraj Singh Chouhan said that his government would move court to seek confiscation of their property earned through illegal means.