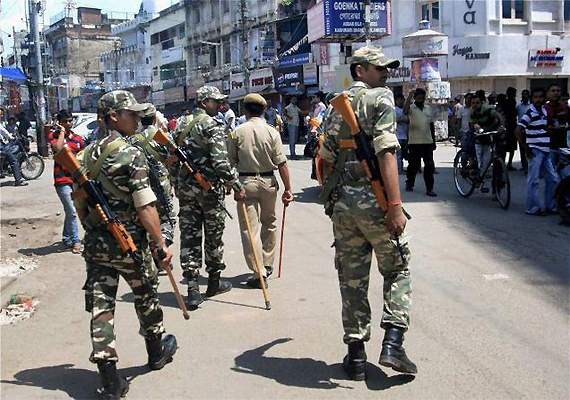 Guwahati, Aug 28: Army staged flag marches at various places in BTAD as the All Assam Minority Students Union (AAMSU)-sponsored day-long Assam bandh turned violent with the attack on government officials and mediapersons leading to imposition of curfew in some areas. 
Assam IGP (BTAD) S N Singh told PTI "Flag marches by the Army are on at various places. The situation in the Bodoland Territorial Area Districts (BTAD) is tense but under control."  
The death toll in the violence, which began on July 19-20 has reached 88, he said.  
As the 12-hour bandh called by the AAMSU turned violent police opened fire on the supporters who blocked NH 31 at Joghighopa in Bongaigaon district, neighbouring lower Assam's Bodoland Territorial Autonomous Districts, injuring three of them.  
CRPF and police opened fire also in Dhubri district in lower Assam to disperse bandh supporters, who burnt an effigy of Bodoland Territorial Council chief Hagrama Mohilary near Kali Mandir on NH 31 at Gauripur.  
The bandh supporters attacked the vehicle of Sonitpur Deputy Commissioner Tapan Chandra Sarmah and three police vehicles escorting him near Idgah Maidan in Tezpur in central Assam.  
A youth was critically injured by bandh supporters when he tried to stop them from forcibly closing down shops near Mahabhairab Temple in the heart of the town leading to the imposition of indefinite curfew there.  
Indefinite curfew was also imposed in 26 villages of Ambagan in Nagaon district after a clash between bandh supporters and local people who opposed the shutdown.
Mediapersons were attacked in Barpeta in lower Assam and Sibsagar in upper Assam, while sporadic violence was reported along with Morigaon and Nagaon districts of central Assam.  
IANS adds: Tension gripped many parts of Assam, including the troubled Bodoland Territorial Areas Districts (BTAD), following fresh incidents of violence Tuesday in which at least one person was killed and six people were injured.
A 12-hour dawn-to-dusk Assam bandh called by the All Assam Minority Students' Union (AAMSU) and other groups under the banner of the United Movement for Peoples' Rights also added to the tension.
The bandh was called to demand scrapping of the Bodoland Territorial Council (BTC) that runs the administration in four districts of BTAD.
Bandh supporters also demanded the arrest of BTC chief Hagrama Mohilary.
Late Monday night, unidentified miscreants attacked some villages under Fakiragram and Salekati police stations in Kokrajhar district, killing one person and injuring six others.
Police said the miscreants also set fire to some villages.
Assam Chief Minister Tarun Gogoi Tuesday instructed the state authorities to deal with the situation strictly. He also appealed to people to help the police contain the situation and asked party leaders not to make any provocative statements that might aggravate the situation.
"Additional security forces and columns of the army have been rushed to the area. No one found to be involved in the clashes will be spared," Gogoi said Tuesday.
The district administration has also sounded an alert in all the districts in BTAD and night curfew was in force in Kokrajhar, Chirang and Dhubri districts.
At Jogighopa in Bongaigaon district, police resorted to blank firing to disperse bandh supporters, who blocked National Highway 31 in the district. Police fired rubber bullets, injuring nine bandh supporters.
In Dhubri, security forces resorted to blank firing to disperse bandh supporters who burnt Mohilary's effigy on NH 31 at Gauripur.
At New Hatipota near Bilasipara, bandh supporters blocked National Highway 31 and ransacked the office of the Bodoland Peoples' Front (BPF).
In Sonitpur, activists damagaed the official vehicles of the Tezpur Circle Officer, Sarangapani Sarma, and officer-in-charge of Bhojkhowa police station at Bhojkhowa.
In Sonitpur and Barpeta districts, bandh supporters attacked journalists.
Sporadic incidents of violence were also reported from Morigaon, Nagaon and Sibsagar districts.
PTI adds: Chief Minister Tarun Gogoi has meanwhile urged political parties and outfits to refrain from calling bandhs which were 'inflaming passions' in violence-hit areas.  
"I am not happy about the way in which BJP and All India United Democratic Front and some other outfits are conducting themselves. I appeal to them not to make any more provocative statements," he told reporters here.  
Referring to Monday's bandh in the state by Bajrang Dal and the one on Tuesday by AAMSU, Mr. Gogoi said "This is not a time to call bandhs. Instead of bringing calm, bandhs only flare the temper and also affect the economy. I urge all parties and outfits to refrain from calling bandhs."  
Admitting that the state continued to be rocked by incidents of violence, Gogoi said the army has been given power to seize arms and was confident that results would soon be visible.  
The state government has directed several ministers and parliamentary secretaries to visit the violence-hit areas of lower Assam to restore confidence among victims and oversee the return to normalcy.  
Among others, Revenue Minister Prithibi Majhi, Planning Minister Tanka Bahadur Rai and Social Welfare Minister Akan Bora, Agriculture Minister Nilomoni Sen Deka, Transport Minister Chandan Brahma and Environment and Forest Minister Rockybul Hussain have left for BTAD and adjacent districts.