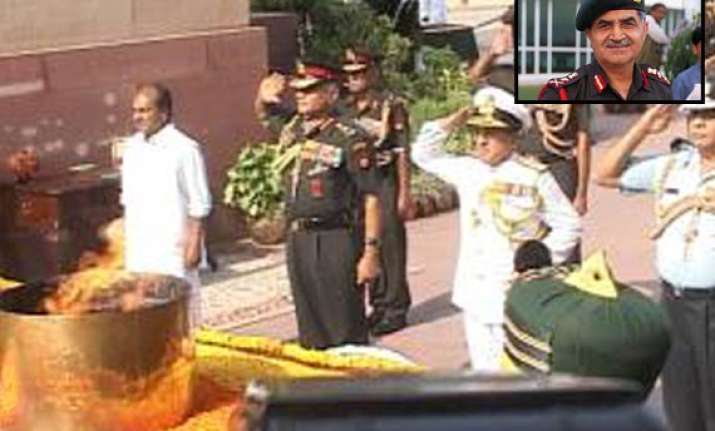 Srinagar, July 26 :  Admitting that Kargil intrusion was a result of intelligence failure, former Army chief Gen (Retd) V P Malik today said a repeat of 1999-like attack cannot be ruled out as long as Pakistan Army continues its proxy war against India.

"Pakistan Army has not given up this agenda of proxy war.  As long as proxy war goes on you cannot say there won't be another Kargil-type of war," Malik who was the Army chief at the time of Kargil war told reporters here.  Malik, who was here to take part in 12th anniversary of operation Vijay, said the Army and other security forces have to remain alert to ensure that another Kargil does not take place.


"We have to remain alert to make sure that if ever there is an attempt from Pakistan Army, We are ready for it," he said.

Gen Malik said it was the failure of both military and civil intelligence and lack of surveillance which allowed the Pakistan Army to carry out Kargil operation.  "Yes, we were taken aback. In that I blame both military intelligence and civil intelligence and (lack of) surveillance," he said.

The former Army Chief said the army was taken aback and surprised by the Kargil intrusion as it was initially thought to be an infiltration bid by militants.  "We were surprised. Initial reports were that some militants have infiltrated which was a continuous process at that time. But as time passed, we realised that it was the handiwork of Pakistan Army in view of the Artillery shelling from across the Line of Control and the helicopters flying in the area," he said.

He said today the Army is better equipped as they have got gadgets like radars, unmanned aerial vehicles (UAV) and satellites, which were introduced after the Kargil War.  "Besides the improvement in surveillance, the intelligence has also improved," he said.


On the scheduled talks between Foreign Ministers of India and Pakistan, Gen Malik said there was nothing wrong in the dialogue at diplomatic level.

"Diplomatic dialogue at political level must go on.  There is nothing wrong in it. You can send messages about 26/11 or the recent Mumbai blasts across," he said.  However, the soldiers guarding the borders of the country cannot afford to lower their guard.

Earlier, Malik and General Officer Commanding of Army 15 Corps Lt Gen S A Hasnain laid a wreath at the war memorial at Badamibagh cantonment here to pay tributes to the Kargil war martyrs.
In Drass, near Kargil, GOC (General Officer Commanding) of 14 Corps Lt Gen Ravi Dastane today expressed confidence that another Kargil war will "never" happen again.
He said the force has strengthened its capacity for technical surveillance and is well equipped with weapons and modern intelligence. 

"I am confident that this (Kargil war) will never happen again," Lt Gen Ravi Dastane said, while talking to reporters here at the 12th anniversary of the Army's victory in the 1999 Kargil war.  Lt Gen Dastane, who presided over the day's functions after General Officer Commanding-in-Chief of Northern Command Lt Gen K T Parnaik could not reach Drass due to bad weather, said Army has strengthened its defenses and its technical surveillance has also increased.

"We are proud to say that India is a technological power and therefore we are getting those spin-offs to us for better surveillance, better intelligence gathering," he said.

Dastane said Army has procured new surveillance technology and firepower systems to meet its operational requirements.  "We are getting better surveillance systems, better firepower systems...It is enough to meet our operational requirements, it is adequate and we are confident with what we are getting," he said, adding that bunkers at the mountain tops are now manned round the year.
 
Before the 1999 Kargil war, Indian forces would abandon its positions in the upper mountainous reaches as heavy snowfall and minus 40 degrees Celsius temperature would make it difficult for troops to maintain their posts.

In the winter of 1999, Pakistani forces climbed these abandoned posts and barricaded them for the assault.  Kargil War, which began in May 1999, lasted more than two months before Pakistani soldiers, a bulk of them drawn from its Northern Light Infantry and Special Services Group, withdrew from the mountain tops that they had occupied, overlooking the Srinagar-Leh highway.

In the battles with the Pakistani forces and irregulars, Indian Army lost 543 officers, soldiers and jawans, many of whom were posthumously felicitated with gallantry awards.

At Drass War Memorial, which has been built in the foothills of the Tololing Hill, the GOC offered a floral tribute to the officers and soldiers who fell in the line of duty.

Dastane said the sense of history for the country was important so the mistakes of the past are not forgotten and repeated.

He said the activity of Pakistani Army across the Line of Control (LoC) was normal.

"It is an army like we are, only we got to be better than them," he said.

On a question about China, which has in the past made incursion into Ladakh, the GoC said, "We just need to be prepared for any eventuality.

We just need to keep preparing ourselves and we need to keep building our capacities every year."

About the Chinese presence on the Pakistani side of LoC, the Army commander said it is a matter between two sovereign countries.

"It is a question of some people doing some job there, they are two sovereign countries, if some people have come into that sovereign country I cannot comment on that," Dastane said. PTI