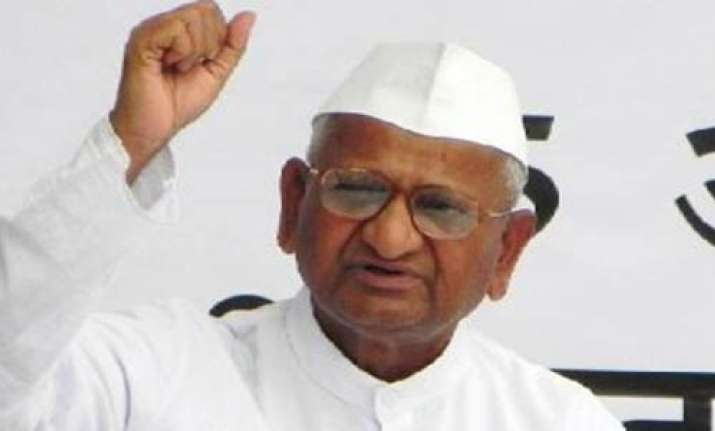 New Delhi, July 29:  Team Anna Hazare has given a call to people to tear and burn copies of the government's Lokpal Bill on August 9 (Quit India Day).The mass agitation on August 9 will be launched by Gandhian Anna Hazare himself.

The decision for mass tearing or burning was taken in Delhi a couple of weeks ago in a two-day meeting of activists, who were representing people's movements across the country. The date August 9 was chosen as it is the day of anniversary of 1942's Quit India movement and activists wanted to mark it as a day for their 'Corruption Bharat Chhodo (Corruption leave India)'

In an open letter, RTI activist Arvind Kejriwal, a member of Team Anna, has said: "It is more than evident that our Government is unwilling to enact a strong law against corruption. Because if they did so, many of them would face imprisonment. There is a serious conflict of interest."

"Anna's fast from August 16 is our last hope. We can't afford to fail this time. For if we fail, we may never get another chance. It is now or never," said Kejriwal, adding that people across the country are planning various protest activities starting August 1, when the monsoon session of the Parliament begins.

As per Kejriwal's letter, available on the website of India Against Corruption, between Aug1-9 people across India would be undertaking short and long padyatras during which they would talk to people, hold meetings, distribute pamphlets and show a film on Jan Lokpal Bill.

But the big day before Aug 16 would be August 9, when the mass agitation will start.

"Mass burning or tearing of government's bill is a mark of non-violent protest. Anna will start it most likely from Delhi or Mumbai," Kejriwal noted.

From Aug 9-15, people in villages, towns or mohallas will form teams and go for prabhat pheri in the mornings singing patriotic songs and educating people about corruption and Jan Lokpal Bill. In the evening, there would be candle light and mashal marches.

On Independence Day, people will switch off lights between 8-9 pm as a mark of support for the anti-corruption movement. After the build up, Anna's fast would finally be expected to start on Aug 16 from Jantar Mantar.

"The government says they would crush Anna's fast the way they crushed Baba Ramdev's movement. We are ready for that. We will offer ourselves for arrest if the government decides to arrest us. We are ready to face their batons and bullets. But we will not move from there. We will not retaliate. It will be a completely non-violent movement," said Kejriwal.

He asked people to take a week off from their work from August 16 and come out on streets with tricolour in hands raising slogan against corruption.

"The government can crush one Anna, but it won't be able to crush 120 crore Annas. Government could impose section 144 on one Jantar mantar. But will it impose curfew on the whole country?" he questioned.

"If the whole country takes to streets for a week from August 16, we the people of India can force the government to enact a strong Jan Lokpal Bill," Kejriwal added.