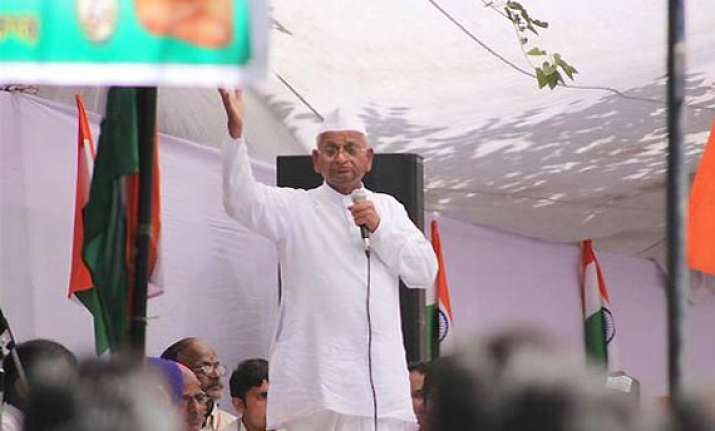 New Delhi, Aug 6: Social activist Anna Hazare in an open letter to countrymen today appealed to people to take leave on August 16 and come out of their homes in their streets and localities to sit on fast to demand a Jan Lokpal Bill.

"This year, the nation will not wait for August 15, it will wait for August 16", says the open letter.

In his letter, Anna Hazare said, "if all countrymen come out on the streets with the tricolour in hand and shout 'Bharat Mata ki Jai'  on August 16, then the number of policemen and their lathis will fall short of numbers.

"Every one of you will then become an Anna Hazare. Government can arrest one Anna Hazare, but can it arrest 120 crore Anna Hazares? Govt can impose Sec 144 on Jantar Mantar, but can it impose Sec 144 throughout the country?

"And let me tell you, the jawans of Army and police are also with us. Several policemen donated for us during my Rajghat fast. even traffic policemen stop us and encourage us.

"Friends, if we lose this war against corruption, we cannot say when we will get the chance to root out corruption. I and my colleagues are ready to sacrifice all in this fight. If they arrest us, we will happily go to jail.

"We will face lathis with a smile, but shall not raise our hand. If they fire on us, we will happily give our lives, but will not run. We are ready for all forms of sacrifice.

"If the government does not bring a strong and independent Lokpal Bill, we will sit on fast from August 16.  This time we have been warned that we will be crushed like they crushed Baba Ramdev's peaceful movement in a barbaric manner.
 
"The decisive fight against corruption has begun. Our fight is not against any party or leader. We want to change the system, not power. We want a corruption-free India.", says the open letter.