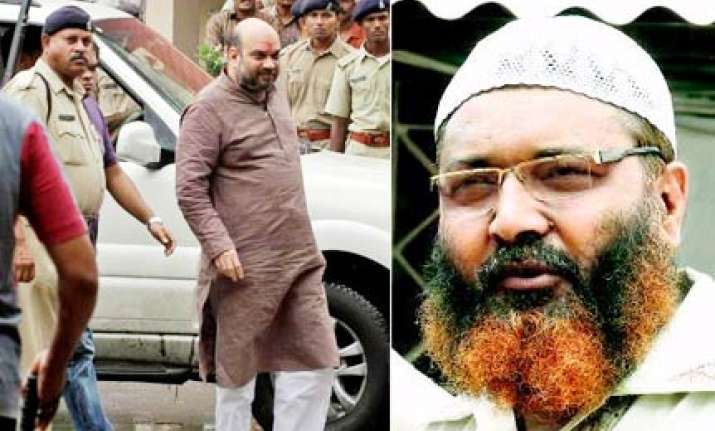 Officials of Sabarmati Central Jail near Ahmedabad have sought the transfer of notorious gangster Abdul Wahab Baloch from the jail, expressing concern over security to BJP leader Amit Shah, accused in Sohrabuddin fake encounter case, reports Mumbai Mirror.  
Officials of  the jail feel that Abdul Wahab Baloch, who is an accused in the Sagir Ahmed murder case, may pose a security threat to those facing charges in the Sohrabuddin fake encounter case. 
In a letter before the court of Metropolitan Magistrate D S Trivedi, Jailor V M Pargi has claimed that Wahab has raised his gang, which has let loose a reign of terror.  
Jail officials fear that any untoward incident may take place inside the jail, and therefore, Wahab should be shifted to Palara jail in Bhuj or Rajkot Central jail.
 There is an oblique reference to Sohrabuddin case accused former MoS for home Amit Shah and suspended police officers DG Vanzara, Rajkumar Pandian, Dinesh MN, N K Amin and others in the letter. It raises doubt over their security.
Wahab was in the Sabarmati jail from May 28, 1994 to March 26, 2009, in connection with various cases. He was again arrested on August 4 this year for his alleged involvement in the Sagir Ahmed murder case.
Wahab allegedly ordered killing of Ahmed, who was a builder, on November 23, 1997 while he was in jail.  
The crime branch, in its remand application before the court, has stated that Wahab tried to extort Rs 10 lakh from Ahmed. However, when the latter refused to pay the amount, the gangster ordered his elimination from inside the jail.
He allegedly gave supari to Mohammad Siddiqui, Jairajsinh Jadeja, and Rasvirajsinh Jadeja for Ahmed's murder. The crime branch, in its remand application, has further said the trio were given weapons and a bike to carry out the killing.  
It may be mentioned that crime branch PI Vinay Shukkal had also sought the transfer of Wahab on August 8 from jail authorities. Shukkal, sources say, had even submitted a letter in this regard to the court.
Dreaded criminals and people named in terror cases such as the Ahmedabad serial blasts case are lodged in the Sabarmati jail.
 This makes security and safety of other inmates an issue of concern for prison authorities. Wahab was a henchman of Abdul Latif and has been accused of murder, extortion and threats, among other offences. He was booked under Section 268 of the Code of Criminal Procedure (CrPC).