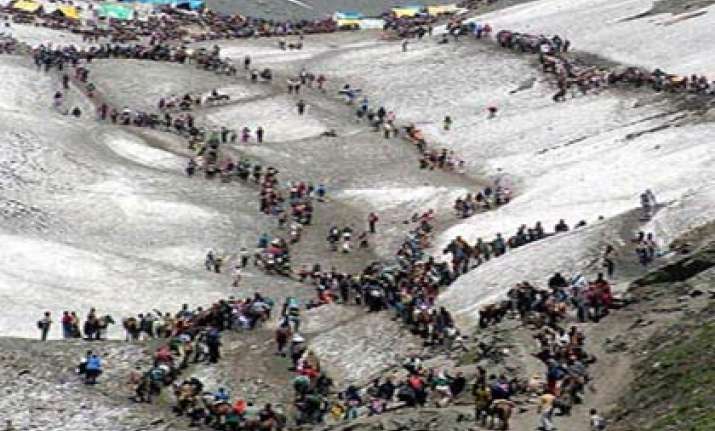 Srinagar, Feb 24 : Several religious groups have  opposted the  decision of the Shri Amarnath Shrine Board (SASB), to curtail the duration of the yatra by 15 days, reports DNA.The Shri Baba Amaranth and Shri Baba Buda Amaranth Yatri Niyas, an alliance of religious and saffron groups, have objected to the decision.
The board, led by Jammu and Kashmir governor NN Vohra, has decided to commence the yatra on June 29 and conclude on August 13, making it a 45-day affair instead of the regular two-month-long pilgrimage.
According to the board, the decision was taken after taking into consideration last year's snow clearance operations, security arrangements and other reasons.
The duration of the yatra is a contentious issue as the saffron groups are against a shorter version of the pilgrimage while the separatists have asked to make it 15-day long
."We feel the board has taken the decision in haste. The decision to start the yatra from June 29 instead of traditional Jyestha Poornima, which falls on June 15, was taken without soliciting our opinion," Dineshwar Singh, convener of the Niyas said.
The Niyas has decided to call a meeting of all the like-minded groups to discuss the future strategy."We have sought a meeting with the governor to discuss the issue. We are also calling a meeting of our associates in order to seek their opinion," Singh said.Last year separatists tried to reignite the 2008 fire when they demanded a shorter version of the yatra triggering a chain reaction from people in Jammu.