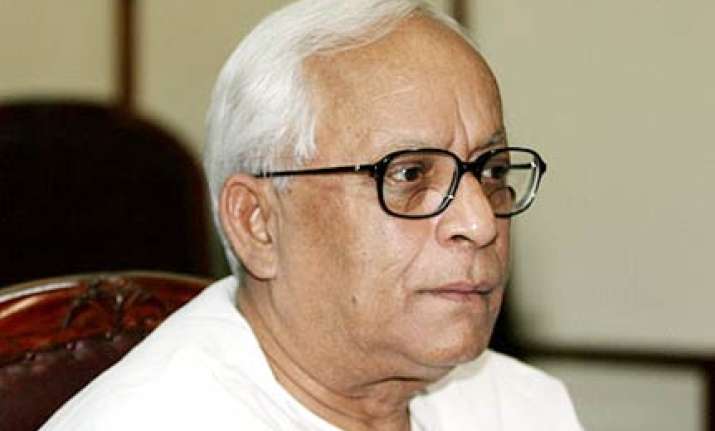 Facing a stiff challenge to stem the decline of the Left Front in West Bengal, Chief Minister Buddhadeb Bhattacharjee on Monday asserted that the alternative to the Left's rule was anarchy and asked supporters not to be demoralised by the success of the opposition.
"Change for what, anarchy? West Bengal is in no mood to fall behind. We want to move ahead in agriculture, industry, education, health, human development. Is there any substitute to it," Bhattacharjee told a Left Front rally to mark the completion of 33 years of uninterrupted rule in the state.
"Does the change mean flight of capital from West Bengal? We cannot reverse industrialisation. We cannot allow another Singur to happen in West Bengal. There is no power which can stop our drive for industrialisation," he said.
Bhattacherjee appealed to Left Front's supporters against bowing down before the Trinamool Congress-led opposition.
The Opposition has no principles, he said, alleging that an attempt was being made to create a terrible situation in the state. Describing Maoists as a menace, he said West Bengal had witnessed Naxalism in the late 60s, but the Left-wing extremists have re-emerged in the state in new forms and in a new way.
Maoists, who were confined to West Midnapore, Bankura and Purulia districts, were trying to make inroads into fresh areas, he said.
Apparently referring to the Nandigram issue, Bhattacharjee said, "There were mistakes in the implementation of many programmes. Mistakes have been rectified in the light of the experiences".
"We are cautious on land acquisition and we stick to it. We are alert. If there is fear and apprehension of the people about land acquisition, we will have to be careful," he said.
At the rally, Left Front chairman Biman Bose said the Left parties will formulate their strategy to oppose the Nuclear Liability Bill and protest the escape of former Union Carbide chief Warren Anderson from the country after the Bhopal gas tragedy.
The Congress leadership and ministers were responsible for allowing Anderson to leave the country, he alleged. PTI