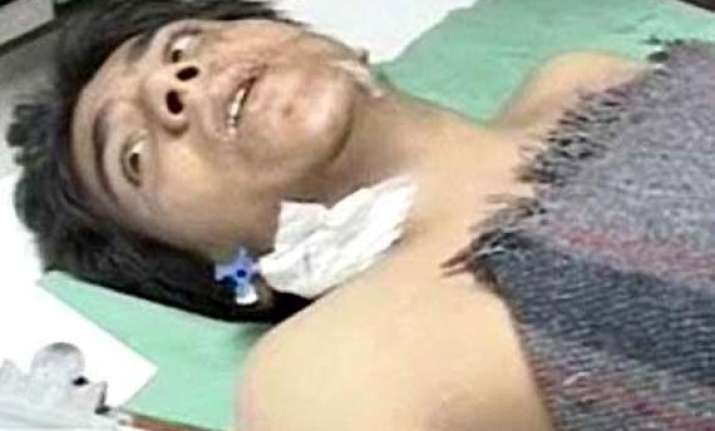 Pune, Nov 22 : Mohammed Akmal Amir Kasab, the Pakistani terrorist hanged in Yerawada central prison on Wednesday morning,  sang songs in his death cell throughout Tuesday night, barely hours after he was told that he would be hanged the next morning,  media reports quoting sources said.   
Kasab hardly slept the whole night.  In the morning, he expressed a desire for tomatoes and jail officials hurriedly gave him a basketful of tomatoes.  
In fact, one source said, "He was tense throughout the 27 hours he spent in the Pune prison. He was sweating and looked ill."
Kasab was asked to get ready at 4am on Wednesday.  
"He said he wanted to eat tomatoes, so he was given a basketful. However, he took only two tomatoes and ate only one at around 6am," a source said.  
After that, he offered namaz, read the Quran and was given prayer beads by the jail officials.
As per procedure, Kasab was given another medical exam in his cell on Wednesday morning and was declared "medically fit to be hanged".  
Asked about his last wish, he said: "Gharwalon ko milna hai (I want to meet my family)."  
He was told that the Pakistan government had been informed about his hanging but had failed to respond.  
Asked if he had any other wish, he replied in the negative, the source said.
Kasab was brought to the gallows at 7.20am. Dressed in the regular jail uniform for convicts, his hands and legs were tied, his head was covered with a black cloth and a noose was placed around his neck.  
It was then that he started speaking incoherently apart from seeking forgiveness.
Right before he was going to be hanged, Kasab sought forgiveness from a police officer and Allah.  
Standing on the gallows inside Pune's Yerawada jail, Kasab looked at the senior-most officer present and said: "Saheb ek baar maaf kar do".
The unofficial hangman, (name withheld)  an elderly constable due to retire in March next year, pulled the lever.
"After the execution, the body was kept hanging for some time," a source said.  
Minutes after the hanging, a doctor declared Kasab dead and issued a death certificate, sources said.  
The jail superintendent then signed a certificate stating that the convict had been hanged and a message was sent to the home ministry about the execution.
Kasab was buried in an open space near the phansi gate on the jail premises at 9.30am.  
Six pits were kept ready to ensure that the exact burial spot remains a secret, sources said.  
"The special cell is located near the 'phansi' yard inside the jail premises," a source said.  
Before Kasab could reach Pune, hectic preparations were afoot at Yerawada jail, with jail staff preparing the rope for the hanging and doing a dummy trial.
"Special trials were undertaken, particularly to check if the wooden board on the gallows could sustain Kasab's weight," a source said.
The preparation for the hanging, including making the rope, as well as the actual execution, was done by the jail staff, some of whom were trained by the last hangman, Arjun Jadhav, before he retired in 1996.  
Kasab was brought from Mumbai's Arthur Road jail to the Yerawada jail at 4.30 am on Tuesday in a secret operation.  
A convoy of six vehicles accompanied by special commandos took the Mumbai-Pune expressway to reach the jail.
Before Kasab could reach Pune, hectic preparations were afoot at the Yerawada jail for his execution with the jail staff preparing the rope to be used for the hanging and even doing a dummy trial.
 "Special trials were undertaken particularly to check if the wooden board on the gallows could sustain Kasab's weight," a source said.  
Jail authorities even shifted out all the convicts lodged in the high security 'anda' cell (an egg-shaped cell which is divided in two parts) to lodge Kasab till late Tuesday evening, when he had to be shifted to the special cell where convicts to be taken to the gallows are kept.
Kasab arrived at Yerwada at 4.30pm and was medically examined at around 5 am.  
"We evaluated his consciousness, orientation and physical fitness. He weighed 52.5kg and his blood pressure was normal at 120/80. He was evaluated for his mental fitness too by a jail psychiatrist," a source said, adding that Kasab appeared quite normal and confidently answered all questions posed by the doctors.  
"There was no trace of nervousness in him," the source said.
"He was smiling before he was taken for execution," Dr Dhananjay Raut, chief medical officer of Yerawada jail, who was among the five people who witnessed the hanging of the Lashkar-e-Toiba terrorist, told The Indian Express.
 "I declared Kasab dead at 8 am. He was fine, kept smiling as we examined him on the morning of his execution."
A government official who also witnessed the process said Kasab even wished officials around 7.15 am, 15 minutes before his scheduled hanging.
"He was very calm and did a salaam to the officials entering the cell," said the official.  
"He was then taken out of the cell and to the area where the process was to be executed. He had a black cloth covering his face and his hands were tied behind. We heard him saying "Allah-kasam mujhe maaf kar do, aisi galti dubara nahi hogi" (by God, forgive me, such a mistake will not happen again) before he was asked to step on the area below the noose."  
"An official put the noose around his neck and the lever was pulled. At this, the body goes up a little and then comes down after which the doctor checks the pulse of the person who has been hanged," the official said, adding that the entire process took about 7-8 minutes, which was within the timeframe allotted.
The execution took place in the presence of the state's additional director general of police (prisons), the jailor, the jail doctor and the district magistrate appointed by the district collector.  
The judgment was read out to all present and signed by the doctor and the magistrate.  
The signed documents which said the death sentence had been carried out will be sent to the metropolitan judge in Mumbai who delivered the sentence.  
A Muslim priest was called before Kasab's body was buried in the jail complex, the official said.
On Wednesday morning, Kasab was woken up at 5 am. "He drank a cup of tea and even at that time he smiled," Raut said.
 "He was very comfortable, did not say any prayers but just sat at one place and continued to smile. He was conscious and cooperative."  
Even before he was sent to Yerawada jail from Arthur road jail in Mumbai, Kasab seemed to be in a "perfect" state of mind. Dr T P Lahane, dean of Mumbai's J J Hospital, said Kasab was fine and did not speak to anyone. "He was checked by our doctors and was declared fit before being sent to Pune," Lahane told The Indian Express.
The rope with which Kasab was hanged was brought from Bihar. The specially made Manila rope is made at the Buxar Central Jail in Bihar. It is priced at Rs 180 a kilogram.  
The jail authorities keep it in stock for use when needed.
Before an execution, the rope is greased in oil and ghee. In this case, prison staff used a rope which had a drop of seven feet since the prisoner weighed over 75 kilograms.
Officials who dealt with Kasab during his last 24 hours in Mumbai said he showed neither remorse nor worry while being shifted to Pune.
 Soon after his clemency petition was rejected, a warrant to the effect was furnished to the Arthur Road Central Jail, where Kasab has been lodged under maximum security for the past four years.
"We entered his cell and told him to stand up, which he did. Never been one to stand up at the entry of a senior official, his manner was neither respectful nor disrespectful on Sunday night. He was first told he was being shifted to a jail in Pune, to which he laughed. He might have realised he had exhausted all his options and that death was finally coming," said an officer involved with Kasab's transport to Pune.