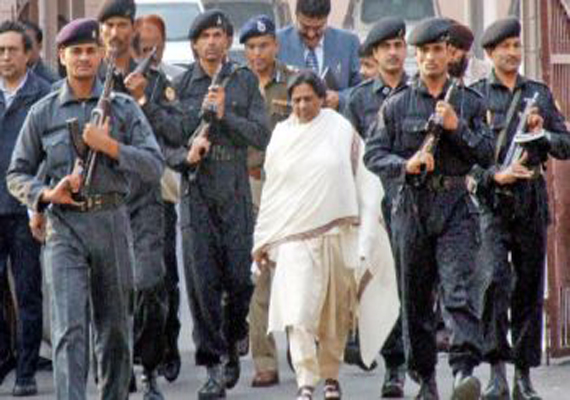 Lucknow, Mar 17: Uttar Pradesh chief minister Akhilesh Yadav has drastically reduced former chief minister Mayawati's elaborate security cover. 
 
Mayawati will now get only Z plus security, which is given to all former chief ministers, sources said.
 
As chief minister, Mayawati had around 600 security personnel with her.
 
The BSP supremo had  asked for a DSP, 34 pplicemen in plain cloths, 28 NSG commandos, 15 Cobra commandos, 12 homeguards, 6 wireless operators, 1 pilot car, one escort Gypsy in which 12 gunners sit, one bullet proof car, 5 security cars and a constant CCTV monitoring at home.
 
All these demands have been rejected, sources said.

An official said, the security of BSP president Mayawati has been scaled down to that of a 'former chief minister'.

The official said, security personnel deployed at her residence in Lucknow and Delhi have been reduced to her present status of former chief minister.

The strength of her security personnel at these places was earlier around 400, the official said. The number of vehicles in her convoy has also been cut down from 40 to 10.

Mayawati would, however, have Z-Plus category security, the official said.

Meanwhile, Akhilesh Yadav has been extended security granted to the state chief minister, he added.