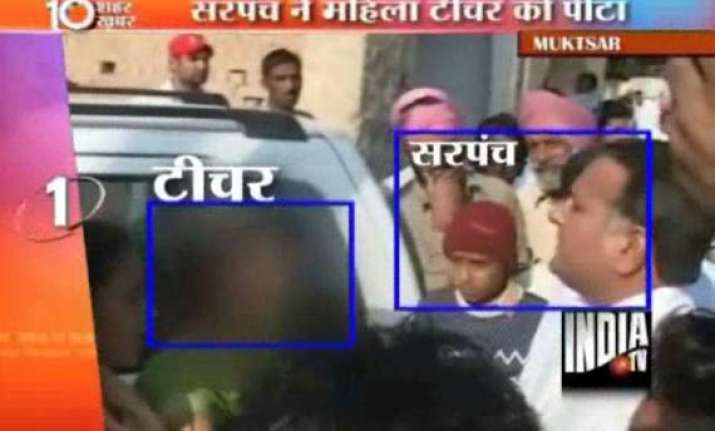 Muktsar, Dec 5 : An Akali Dal sarpanch on Sunday slapped a woman activist of the EGS Teachers' Union at Daula village here. 

The lady was part of the delegation of 40 EGS teachers who had gone to hand over a memorandum to Bathinda MP and Chief Minister's daughter-in-law Harsimrat Kaur Badal at a Sangat Darshan programme.

As the activists reached the venue, they were told by Akali workers to leave. But the delegation members decided to wait for the MP outside the venue. At this, a few policemen thrashed their leader Jarnail Jalandhari.

"Angered by the police action, we began raising anti-government slogans. At this, village sarpanch Balwinder Singh 'Toti' slapped EGS teacher Varinder Kaur a number of times and pulled her by the hair," alleged Pritpal Singh, president, EGS Teachers Union.

When the delegation tried to stage a protest march, senior officials, including the local DSP, intervened to hush up the matter.

"The police officials have now assured us to arrange a meeting with Deputy Chief Minister Sukhbir Singh Badal in a day or two," Pritpal claimed.

The EGS teachers have been on a protest demonstration at Gidderbaha since November 29, demanding permanent jobs. 

Congress MLA Darshan Singh Barad has demanded a probe and action against the Akali Dal sarpanch.
Harsimrat Kaur Badal in a statement  strongly condemned the incident.

She said that the assault of a woman by anybody was not acceptable, whatever may be the provocation for that. 

Kaur asked the administration to probe the whole incident and take necessary action against the guilty and expressed regret for this unpleasant incident.

Meanwhile, opposition Congress demanded registration of criminal case against Balwinder Singh alias "Toti" and demanded a public apology from Kaur, who is the wife of Deputy Chief Minister Sukhbir Singh Badal.

"In what can rightly be termed a perfect example of Jungle 'Raj' a woman EGS teacher Varinder Kaur was publicly slapped, pulled by her hair and humiliated at a 'Sangat-Darshan' programme of Harsimrat Kaur MP, by an arrogant Akali Sarpanch yesterday," Punjab Congress spokesman Sukhpal Singh Khaira said here.

"It was a matter of great shame that Harsimrat Kaur who otherwise claims to be the champion of women rights (Nanhi Chaan) failed to prevent insult and humiliation of a woman teacher at the hands of an 'Goonda' Akali Sarpanch," he said. 

The present political scene reminds us of Mughal despots and the arrogant British 'Raj' where even peaceful protests were completely banned, he said.