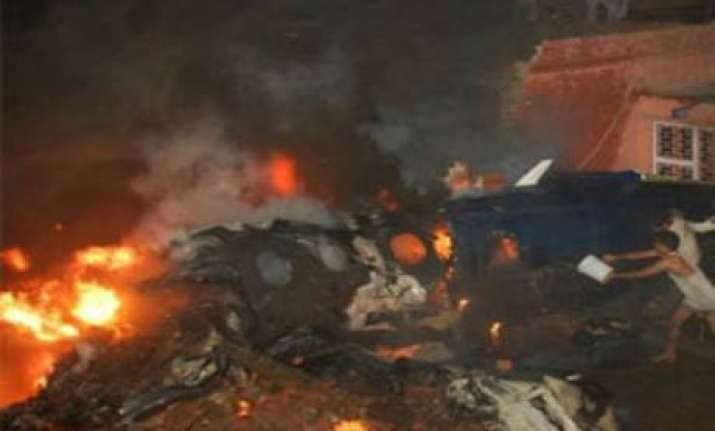 Faridabad, May 26: Mangled remains of an aircraft on streets, a damaged heavy metal fan of the engine, burnt houses, and people in panic.  This was the scene at the accident site of the chartered plane that crashed in a residential area in Faridabad last night, killing ten persons, including all seven onboard.

The aircraft lost control and nosedived into the first floor of a building, killing three women residents.  The building in no time turned into a ball of fire.  A battery of people surrounded the accident site, which caused difficulty in rescue operations.

 "I rushed to the building, it was on fire. There were some people on the stairs who were engulfed in flames. I tried to find my way to the first floor but the flames were too strong," Omkar (30), one of the injured, said.  Three persons were injured in the mishap.  The whole area has been cordoned off and security personnel deployed.

The incident was a nightmare of sorts for the residents of the densely populated Parvatiya Colony as they came out of their houses after hearing the massive explosion.  "It was very scary. I heard a loud explosion and rushed outside. I saw flames all over.
I immediately called my friends and nearby people to douse the fire," said Rohan, a resident of the colony.
Mangled remains of the aircraft, oxygen cylinders, icebox, and other medical articles were strewn at the site of the mishap which has been cordoned off and security personnel deployed.
Police said fire tenders and rescue teams had difficulty in reaching the spot due to the crowd assembled at the spot. Rescue operations were being carried out for two hours.
"We faced lot of difficulty in rescuing people as there was a power cut in the area," said Sitaram, an eyewitness.

Lata Devi, another eyewitness said, "We were about to sleep when we heard a huge sound. It was a huge explosion. For a minute I could not understand what has happened, but later realised that something big has fallen on the house." PTI