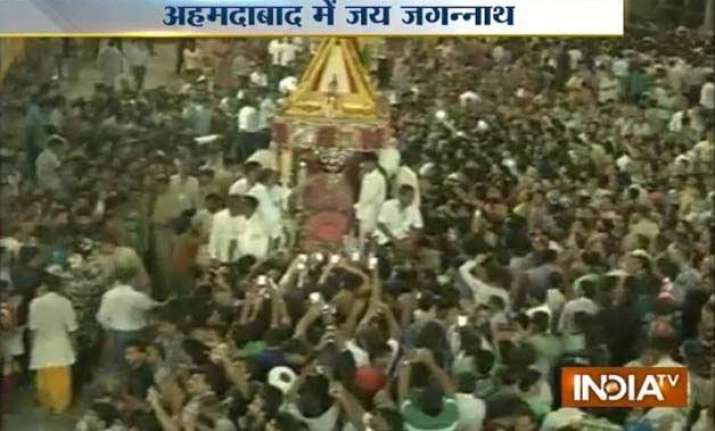 Ahmedabad: The city was drowned in festivities today as it witnessed the 138th Rath yatra of Lord Jagannath, which is coinciding with the festival of Eid-ul-Fitr after 30 years amid  heightened vigil by security agencies.
Thousands of devotees converged in the city as the Rath yatra began here with great fanfare.
Chariots of Lord Jagannath, his brother Balbhadra and sister Devi Subhadara rolled out of the 400-year-old temple in Jamalpur area of the city, after Gujarat Chief Minister Anandiben Patel performed the 'Pahind' ritual (symbolic cleaning of roads before the yatra).
BJP national President Amit Shah attended the 'Mangla Aarti' (first puja of the day) performed in the temple early this morning.
The Rath Yatra procession travels on a 14-km route across the city, where lakhs of devotees are seeking blessings.
The procession has 18 elephants, 100 trucks, 30 religious congregations, 18 singing troupes, three chariots and seven cars.
"Rath yatra is an integral part of our culture and symbol of faith. Prayed to Lord Jagannath for peace, prosperity and happiness for the people of Gujarat," Patel tweeted later.
The city, which is infamous for a history of communal riots, is witnessing Eid-ul-Fitr and Lord Jagannath's Rath Yatra simultaneously after around 30 years and followers of both the religions have pledged to avoid any untoward incident during the celebrations.
Religious leaders of both the communities exchanged sweets and flowers while wishing each other as Mahant Dilip Dasji Maharaj of Jagannath Temple visited Muslim clerics during 'Iftaar' and followers of Islam here offered flowers and food to the Lord.
State administration has made unprecedented security arrangements as the procession will pass through some communally sensitive areas such as Kalupur, Prem Darwaja, Delhi Chakla, Dariyapur and Shahpur in the old city.
UAVs, CCTv cameras and 20,000 policemen have been pressed into service to ensure that both the festivals are celebrated peacefully in the city.
Apart from the main Rath Yatra organised in Ahmedabad, a total of 146 different Rath Yatra processions of Lord Jagannath as well as other deities are organised across the state, including in major cities like Bhavnagar, Surat, Vadodara, Anand and Rajkot.
Security arrangements in these cities have also been beefed up.