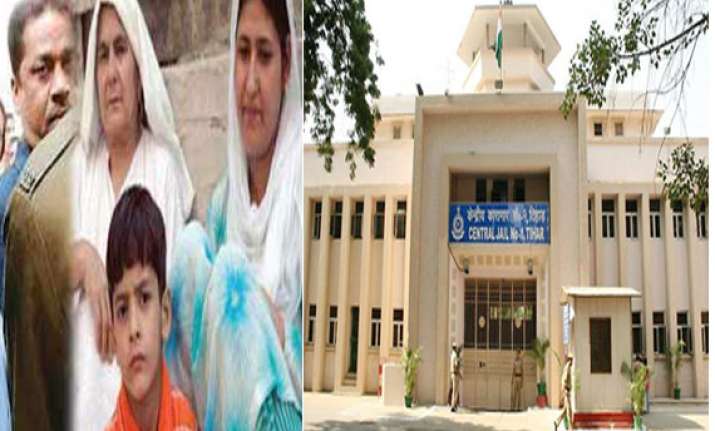 New Delhi, Feb 23: The family of Afzal Guru, who was hanged two weeks ago at Tihar jail, has not yet approached the prison authorities to pray at his grave though the government has made the offer for his close relatives.
"We have not received any letter from Guru's family in this regard," Director General of Tihar Prisons Vimla Mehra told reporters.
The government has already said it will allow Guru's close relatives to visit his grave, an offer rejected by the family which has been insisting on return of his body to them.
Asked whether jail authorities will allow family members to visit Guru's grave if they make a request, Mehra refrained from giving a direct reply, saying "the government is considering it."
On the criticism that the letter sent to Guru's family informing about his hanging reached two days after his execution, Mehra said, "It was a job (Afzal's hanging) assigned to us and we followed the official procedure to execute it."
Guru was hanged at Tihar jail on February 9 in a top secret operation after his final appeal for mercy was rejected by President Pranab Mukherjee. His body was buried inside the jail premises.
Addressing an annual press conference, the DG said  21 new mobile phone jammers have been installed in the jail premises this year.
"Now, we have a total of 31 jammers in 10 jails. Several cases were reported this year where mobile phones were seized from convicts, which they had smuggled into jail premises by keeping it in their body cavities. A proposal is under consideration to acquire full-body scanners to eradicate this possibility and make jail premises safer," she said.
Now a prisoner who served imprisonment for "more than five years but less than 12 years" will be eligible to stay at semi-open jail where they can live without much of a restriction. Those sentenced to life imprisonment will have to spend at least 12 years in normal jail without remission to be eligible to stay in semi open jail. Will be eligible for this relaxed treatment of Open Jail.
"We have already shortlisted 24 convicts to be shifted to the semi-open jail," said Mehra.
Talking about placement of inmates who have acquired various skills inside jail premises or completed different courses, Mehra said 342 prisoners have got employment this year. She said a placement drive will take place next month.
She said 18 deaths have been reported in the jail of which 16 were natural deaths while two inmates committed suicide.
"92 cases of indiscipline were reported. Seven people were caught for carrying mobile phones while narcotics were seized from four inmates against whom proceedings have been initiated